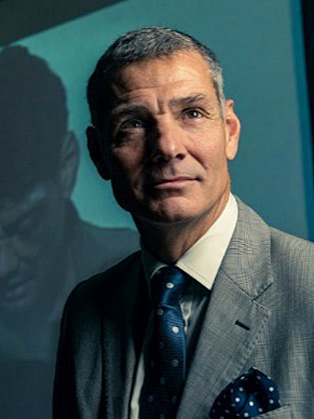 Best known for:
John Peters is a former pilot of the Royal Air Force and came to the worlds attention when his bruised and battered face flashed onto television screens around the world.
Summary:
To become a Tornado pilot, you have to be a part of the creme de la creme, with very few being able to withstand the immense levels of G-force needed to control and pilot successfully. John Peters was drafted into the Gulf War as a fighter pilot in 1991, where his story becomes macabre. John, and fellow navigator John Nicol, were shot down and captured by the military of Iraq. Their bruised and battered faces were broadcasted to the world as a symbol of Saddam Hussein's tyranny and ruthlessness. John now runs his successful company, Monkey Business, advising, coaching, and consulting major companies on leadership issues including uncertainty, organisational learning, and trust and failure.
Biography:
It was John Peters disfigured image that became a potent symbol of Saddam Hussein's ruthless aggression. His dramatic and sometimes harrowing experiences reach deep into our innermost minds, showing us how we can overcome even our worst fears and nightmares. His war was not all as he expected – it became a seven-week ordeal of torture and interrogation testing John Peters to the absolute limit and bringing him close to death. Far from being doom and gloom, his speeches exude warmth, humour and tenacity moving audiences from laughter to tears to inspired reflection!
John is an experienced speaker of international repute to corporates, public sector and charities, with audiences ranging from 5 to 5500! He has followed Mr Nelson Mandela on stage in South Africa, (achieving a standing ovation), followed Heads of State and spoken for Royalty. At home with corporate, government or third sector audiences, he speaks on resilience, leadership, dealing with uncertainty, agility and high-performance mindset. He has written two best-selling books and the documentary, 'Tornado Down' was Independent Documentary of the Year and a BAFTA Award Nominee. He has extensive international TV, radio, PR and media experience.
During his RAF career, he flew Tornado GR1 and then led MoD programmes on leadership, safety and human error in aviation. On leaving the RAF, he founded Monkey Business, providing business critical development, consulting and coaching - through a leadership lens for senior business teams.
John is also a successful author, writing two books on his experiences in the Gulf War, as well as currently writing a book on leadership. John's dramatic and occasionally harrowing tales offer a profound insight into his life, making him an exceedingly sought after speaker for his inspirational and motivational speeches.
Fee range:
Please Enquire