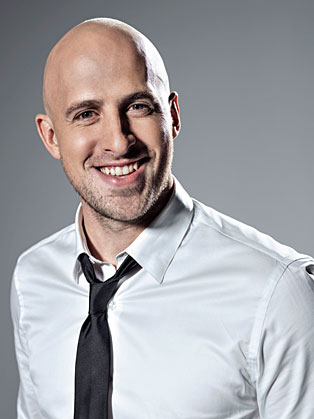 Best known for:
Jonathan is a stuntman, escapologist, and the renaissance man of danger.
Summary:
When Jonathan was seven years old he read a book about the first escape artist Harry Houdini. From that moment Jonathan knew that he wanted to follow in the footsteps of such a great man and be an escape artist too. While performing his escapes Jonathan has been hanged, buried alive, locked in a box covered in 200,000 bees and burned at the stake to name just a few. Jonathan has also developed his ability to withstand pain. From being hit with a baseball bat to handling hot coals, pushing needles through his skin, and even walking on tacks in bare feet; Jonathan somehow seemingly has the ability to disconnect his bodies pain receptors.
Biography:
Jonathan Goodwin is something of a modern superhero, a professional dangerman.
He is currently starring in his own TV show The Incredible Mr Goodwin, featuring a variety of death defying stunts, which aired in the UK this spring to huge publicity, and is now sold to 167 territories.
The show will be launched in the US in Summer 2013.
He has also appeared on TV shows including Dirty Tricks, The Seven Stupidest Things to Escape From and Deathwish Live
He is currently writing The Art of the Skill Hacker which will teach readers how to master skill hacking and how to quickly become experts in any field. Interspersed with Jonathan's revelations, research and advice the book will follow Jonathan's story from a Houdini obsessed 7-year-old to an expert Skill Hacker.
Fee range:
Please Enquire