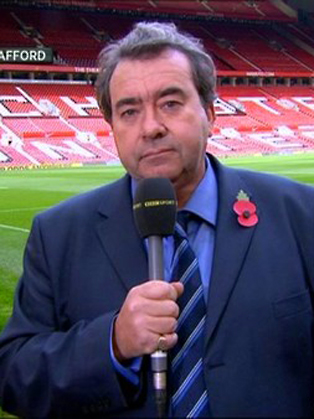 Best known for:
John is best known for his distinctive and enthusiastic voice in sports commentary.
Summary:
John is a British football commentator for the BBC. Known for his loud, exuberant commentaries, he has worked for both Radio Five Live and Match of the Day, as well as participating in other lower-profile sports programmes and Robot Wars.
Biography:
He started his career at BBC Radio Bristol in 1979. His first match commentary was Bristol Rovers against Exeter City in the League Cup, and he became sports editor at the age of 23 at Radio West.
Jonathan became a commentator on Match Of The Day during the 2004/05 season following, three years at BBC Radio 5 Live.
In 1987 he moved to London and Capital Radio, where he launched Capital Gold Sport a year later. Jonathan has won several awards for his work, including three Sony awards and the Variety Club Radio Person of the Year.
He has commentated on more than 150 England internationals, four World Cups, five European Championships and more than 20 Cup Finals.
Born in 1959 in Plymouth, Jonathan moved to Bristol at the age of seven. He is still a Bristol City FC fan, but his wife and three small children are Arsenal, Brighton and Crystal Palace fans.
Jonathan studied English at Birmingham University and at the National Broadcasting School. He now lives in West Sussex.
Fee range:
Please Enquire