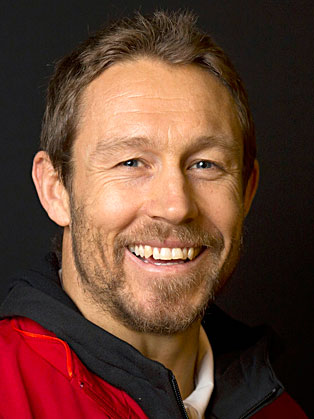 Best known for:
Jonny Wilkinson CBE is a former world class Rugby Union player and a prominent mental health campaigner.
Summary:
Considered the man who won England their famous World Cup victory under the leadership of Sir Clive Woodward. Becoming one of the most famous rugby players alive when his drop goal in the dying seconds of the game won the tournament for England. One of the most decorated players in the game, becoming the highest international points scorer and a role model of professionalism and sportsmanship. The public success was only part of the story, however, and Jonny speaks frankly and inspiringly about the pressure of expectation and the mental health implications of leading a life defined by others.
Biography:
Jonny Wilkinson CBE is one of the best-known rugby players in the world, he famously kicked the drop goal that won England the World Cup with just seconds left in the final. He then went on to be rated as one of the best players in the world in both internationals and at club level with Newcastle and Toulon.
A promising youth player, Jonny left his university studies to join the Newcastle Falcons, a team he would spend the next 12 years with. He made his international debut at the age of 18, becoming England's youngest ever player, and within 18 months had scored 100 test points and played in his first World Cup. In the 2003 World Cup, he played a critical role scoring in almost every match he played in. A tight final against rugby powerhouse Australia, on their home turf, saw an epic battle only decided in the last 30 seconds of the game when Jonny received a pass and scored a drop goal that saw England win the title for the first time in their history. He also became the competition's top points scorer. In 2003 he was named the IRB International Player of the Year and BBC Sports Personality of the Year.

An outstanding career Jonny accumulated four Six Nations titles and became the highest international points scorer of all time. At club level he left Newcastle after helping them to Premiership and Powergen Cup titles and joined RC Toulon. At the French club he became their most popular player during their most successful period. Off the pitch he has written five books about rugby and his life, was a columnist for The Times, and has co-founded his own online fashion brand, Fineside. He also continues to be involved in coaching at Toulon.

Much of Jonny's success on the field however impacted on his mental wellbeing. Jonny now speaks openly and honestly about his experiences. He recounts how his focus and dedication to the sport he loves meant overlooking important parts of his life. He considers what that experience has taught him about mental health and why everyone needs to understand the difference between what matters and what is imposed on us by others.
Fee range:
Please Enquire