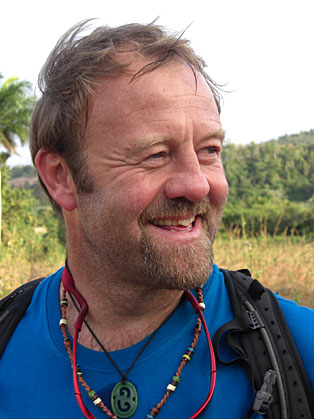 Best known for:
Best known for leading a dozen women through the rainforests of Borneo in the Channel 4 show, 'Jungle Janes'.
Summary:
Ken Hames, is the former S.A.S Major whose Herculean tasks have included leading a dozen women through the rain forests of Borneo in Channel 4's 'Jungle Janes', guiding expeditions of physically disabled teenagers in Beyond Boundaries and building the first ever eco-lodge and game reserve in Kenya in BBC 1 "Mission Africa". The year-long training programme and the expedition that followed revealed hidden strengths and weaknesses amongst the women, none of whom had ever faced real danger. Ken's presentations provide a fascinating insight into how individuals learn to tackle pressure and work as a team.
Biography:
Following an impressive 25 year military career, Ken Hames has brought a unique slant to the many documentaries that he has created and presented for television. Ken's third series of 'Beyond Boundaries' was set in the Andes range in Ecuador and followed his highly acclaimed BBC1 documentary 'Ex Forces and Homeless' , his next broadcast series will be 'Beyond Boundaries – Where Are They Now'.

Ken has created and presented series like 'Mission Africa' - a 15 part series for primetime BBC1 where Ken took a group of young apprentice builders from the UK to Kenya to build the first eco lodge and game reserve to protect the endangered species that live there working closely with the Born Free Foundation. This was then handed over to the local Samburu tribe as a sustainable business that also protects the wildlife.

Ken created and is the expedition leader on the ground breaking 'Beyond Boundaries' series for BBC TV. This is now a successful brand with it's own live event, bringing disabled people from all over the world together with their friends and families. Each series, Ken takes a different group of highly disabled people and motivates them to achieve seemingly impossible expeditions. He trains and inspires them into a team and the end result is life changing.

'Desert Darlings' was broadcast on Channel 4 in spring 2003. Ken took couples across the Namib Desert, placing their sometimes fragile relationships under the extreme pressures of an expedition. His first series for Channel 4, was the award winning, 'Jungle Janes', where Ken's challenge was to turn a group of British women, none of whom had any expedition experience, into a cohesive team fit enough to take on the gruelling jungles of Borneo. It was enjoyed by millions who found this journey an inspiration. The first documentary was a television series, called 'The Trek' broadcast by Meridian. In 1994, with the help of Diana, Princess of Wales, Ken was able to take twelve disadvantaged youngsters to the heart of Africa on a 500-mile trek over desert and mountainous terrain, The process transformed their lives and Ken still monitors their progress, twelve years on.

These documentaries have proved Ken's extraordinary ability to inspire and motivate even the most unlikely candidates. His unique skills enable him to take any rabble of individuals and finish with a winning, cohesive team, using sound leadership and thorough training are just some of the tools he uses. Ken is passionate about empowering people to transform their lives for the better.

Ken presented the highly praised series, 'Greatest SAS Missions' for Five in 2004, CBBC's 'Bring it On', 'Hero Factor' for the Discovery Channel in 2002, 'Battle Stripes' for Sky in 2000, 'Future Fighting Machines' for the US in 2003, Channel 4's 'Shattered' and ITV's 'Celebrity Fit Club'. Ken was also involved from the earliest of stages in the design and development of ITV's 'I'm a Celebrity, Get Me Out of Here'.

Ken is a real life action man who leads from the front. He has 25 years military experience under his belt, and is almost unique in having served in The Parachute Brigade, the Royal Marines and the Special Air Service. Ken's operational experience is vast, ranging from guarding Nazi war criminal Rudolph Hesse, in Spandau Prison to the liberation of Port Stanley in the Falklands.

The unlocking of potential in the most unlikely of people links his soldiering, documentary-making and now his work in Business Development "It's all about understanding how people work, what makes them tick," he says," and then helping them to surprise themselves." Certainly Airbus, Allianz Insurance, Greene King, the Metropolitan Police and the Department of Transport have all repeatedly used Ken. "They recognise that most organisational problems stem from people – their attitudes, behaviours and relationships," Hames says. "And so do all successes. If you get the foundations right, the rest will follow, and much quicker."


WHAT KEN CAN DO FOR YOU:
Ken is a catalyst for real behavioural change through his credibility, authenticity and business currency. Ken's experience covers many industries including aeronautical, banking, commerce and communications. Following Ken's sessions his audiences are ready to make a change to their lives/work.

Ken is also a gifted problem solver and assists his clients in finding simple solutions to their dilemmas.
Fee range:
Up to 5,000 GBP