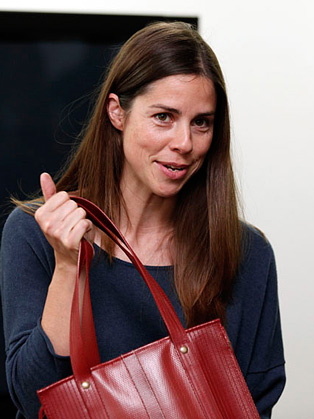 Best known for:
Kresse Wesling MBE is an environmental entrepreneur who builds businesses that both make money and have a positive impact on the environment.
Summary:
Kresse Wesling, MBE, is a multi-award winning environmental entrepreneur and Young Global Leader with a background in venture capital and significant start-up experience.
Biography:
After first meeting with the London Fire Brigade in 2005, Kresse Wesling MBE launched Elvis & Kresse, which turns industrial waste into innovative lifestyle products and returns 50% of profits to charities related to the waste. Elvis & Kresse's first fashion line is made from decommissioned fire hose, 50% of the profits from this line are donated to the Fire Fighters Charity.The company now collects 12 different waste streams, has several charitable partnerships and is involved with collaborations across industries, from fashion houses to FTSE 100 companies etc.
Some might be hard-pressed to see how old hose could be beautiful, but this is exactly what makes Kresse's passion extraordinary: her vision. 'When you polish it and see the lustrous red rubber it becomes this fantastic material!' Kresse and her business partner, Elvis, set about figuring out what they could make from it. 'If a use couldn't be found for the hose, most of it would go to landfill, which to me is simply uncivilised. Waste is a mix of inherently valuable materials. It's shameful to shove it in the earth'.
Kresse is one of the most passionate, honest and articulate motivational speakers that we have come across. She engages deeply with her audience, bringing to life her story and thoughts on innovation, business and global issues.
Fee range:
Please Enquire