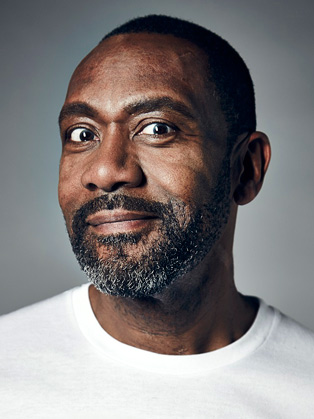 Best known for:
Lenny Henry is a national icon in comedy.
Summary:
Lenny Henry is the founding member of Comic Relief and an award winning comedian. His media career spans over 30 years as a documentary maker and communicator. Lenny has recently completed a BA Honours in English Literature with the Open University.
Biography:
Sir Lenny Henry CBE has risen from being a cult star on children's television to being one of Britain's best known and loved personalities – who has had a crucial influence on the creation of black-centred comedy and characters.
His character creations range from Brixton's favourite wideboy Delbert Wilkins to the one-man 'sex machine' Theophilus P. Wildebeeste and the Guinness supping Grandpa Deakus. Lenny and his various characters appeal across all classes, creeds and age groups.
Lenny was born in 1958 in Dudley, West Midlands. "My family came to the UK at a time when blacks were just beginning to be integrated into British society. I was one of just three blacks in our school".
His first television exposure was as a comic on New Faces. In the late seventies he appeared in TISWAS, the Saturday morning children's show in which Lenny was a regular contributor alongside Chris Tarrant and Bob Carolgees.
"TISWAS represented an anarchic, irreverent style of comedy and Chris Tarrant made a big impression on me. It was then that I began to develop my work – I did Three of a Kind straight afterwards and started looking at what other comedians were doing. I remember going to the Comedy Store and realising that I didn't have to rely on impersonations so much and that I could be funnier by being myself!"
Three of a Kind with Lenny, Tracey Ullman and David Copperfield ran for three years on BBC TV. It introduced Lenny to larger television audiences and was followed by two series of the hugely successful Lenny Henry Show, featuring Delbert Wilkins.
From 1991 until 1999 Lenny worked primarily through his own production company Crucial Films. Lenny's 'Step Forward' workshop for new writers, in conjunction with the BBC, led to a new comedy series for BBC2. Entitled The Real McCoy, it consisted of six half-hour shows and was designed to present a black perspective through humour, sketches and musical numbers. Crucial also produced Funky Black Shorts, a series of 6 x 10 minute films for BBC2.
Lenny was the first British comic to make a live stand-up comedy film in the tradition of American comedians such as Steve Martin, Eddie Murphy and Robin Williams. Lenny Henry Live and Unleashed was filmed before a live audience at the Hackney Empire and went on general release throughout the UK in 1989.
In 1991 Lenny filmed the Touchstone/Disney film, True Identity, directed by Charles Lane and made on location in L.A. and New York. Also that year Alive and Kicking, a drama starring Lenny as a drug dealer and Robbie Coltrane as a drug counsellor, was shown on BBC1. It was awarded the Monaco Red Cross and The Golden Nymph Award at The Monte Carlo Television Festival.
In 1991 and 1992 he starred in two Christmas specials for BBC1 – Richard Curtis's Bernard & the Genie and Jon Canter's In Dreams, and presented a South Bank Show Special, Lenny Hunts the Funk, which chronicled the history of Funk music. 1993 heralded the first series of Chef! for BBC1 starring Lenny as Head Chef Gareth Blackstock. He also presented a documentary on Soul for Channel 4 entitled New Soul Nation.
Lenny received the Radio & Television Industry Club Award for BBC Personality of the Year in 1993.
In 1994 he appeared in White Goods (ITV), directed by Robert Young and co-starring Ian McShane. Lenny then began recording a second series of CHEF! which was transmitted in September and went on to do a nationwide tour of his one man show, LOUD! in October '94. This show also came out on video. Lenny also presented a second South Bank Show Special, Darker than Me.
On finishing the tour he began work on a Christmas Special of The Lenny Henry Show, transmitted Christmas '94. The new series of The Lenny Henry Show began production in January 1995 and was transmitted in April on BBC1.
In August 1995 Lenny took his one-man show to Australia where he performed to sell-out audiences in Adelaide, Brisbane, Canberra, Melbourne, Perth, and Sydney. Lenny completed the year with The Lenny Henry Christmas Special transmitted on BBC1 in December 1995.
In May 1996 Lenny performed a mini tour of the UK with a new one man show entitled Larger Than Life and by the autumn had also completed the third series of Chef!, which was transmitted in September. Over the Christmas season Lenny could be heard as the voice of Fred in the new animated cartoon Famous Fred (Channel 4), written by Posy Simmons and produced by John Coates (The Snowman) as well as his performing new sketches in a special called Lenny Henry Gets Wild.
In May 1997, Lenny travelled to the Amazon to film a survival documentary entitled Lenny's Big Amazon Adventure (BBC1) and on his return, hosted the BAFTA Awards.
1998 saw the broadcast of a new television series Lenny Henry Goes to Town (BBC1). This was transmitted in September in a prime time Saturday night slot. Much more a family show, he visited a different town in the UK every week. Lenny also completed a sell out tour of Australia and New Zealand with a brand-new one-man comedy show, Lenny Henry Large!
During the winter of 1998 Lenny finished production on a Screen One film (BBC1), The Man, written by Jon Canter. Co-starring Marianne Jean Baptiste, Lenny played a travel agent from Birmingham whose main aspiration is to perform with his band. This was transmitted on Easter Monday 1999.
Summer 1999 saw the transmission of Lenny's first role in a BBC Drama. Written by Lucy Gannon, Lenny played Head Teacher Ian George in Hope & Glory. Series 2 and 3 were transmitted in 2000.
During the autumn of 1999 Lenny completed a sell-out tour of the UK with his one-man stand-up comedy show LARGE '99.
Lenny added yet another string to his bow with his first venture into the Classical music world. He breathes fresh life into the famous story of Prokofiev's Peter and the Wolf as the narrator. Recorded at Abbey Road Studios the CD was released in March 2000 (EMI Classics). Later that year Lenny took to the seas with Tony Bullimore and sailed across the Atlantic Ocean for a two-part documentary Lenny's Atlantic Adventure (BBC1). He completed work on the third series of Hope & Glory and finished the year with a Christmas special entitled Lenny Henry in Pieces (2000), which won Lenny the Golden Rose at The Montreux Television Festival. Another special of the same show was transmitted at Christmas 2001. Lenny also appeared in the ITV drama, Goodbye Mr Steadman, written by Lenny Barker (2001).
During 2002 the first series of Lenny Henry In Pieces was transmitted on BBC1 and Lenny hosted Party at the Palace – The Queen's Concert, a live concert from Buckingham Palace and transmitted on BBC1 on 3rd June that year as part of The Queen's Golden Jubilee celebrations. Lenny also completed a tour of the UK with his live show, Have You Seen This Man. A CD of the tour, under the same name, was recorded and released by EMI on 11th November 2002, and a documentary following Lenny on tour, Lenny Henry – This is My Life, was transmitted on BBC1 in January 2003. In March 2003, the third series of Lenny Henry In Pieces was transmitted on BBC1 and Lenny recorded the voice of Sporty for the Ceebeebies animated show, Little Robots.
November 2003 marked Lenny's first live appearance in London's West End with So Much Things to Say at the Wyndhams Theatre. The show, co-written with Kim Fuller, received great critical acclaim. Lenny then went on to tour So Much Things To Say around the UK, Australia and New Zealand in 2004.
Lenny was awarded the Lifetime Achievement – Performance Award at the 2003 British Comedy Awards.
May 2005 saw Lenny record the second series of The Lenny Henry Show (the first series was transmitted April-June 2004) for BBC1.
Lenny hosted a one-off special called Lennyhenry.tv in December 2006, a series followed on BBC1 in 2007. The same year saw the very successful series Lenny's Britain air on BBC1 – a series that followed Lenny around Britain to discover how humour changes and affects you dependent on where you live in Britain.
Lenny's last live show Where You From? toured throughout the UK, Australia and New Zealand in 2007 & 2008.
Lenny has presented/acted in a number of shows for Radio 4 including Rudy's Rare Records, Anansi Boys, Lenny & Will, Bad Faith and What's So Great About?
Lenny now has an army of younger fans due to him voicing both the lead (title) characters in the Cbeebies show, Big & Small.
In February 2009 Lenny made his Shakespearean acting debut taking the title role in the Northern Broadsides touring production of Othello. The show was very successful and received great reviews, with Charles Spencer from the Telegraph writing, "This is one of the most astonishing debuts in Shakespeare I have ever seen. It is impossible to praise too highly Henry's courage in taking on so demanding and exposed a role, and then performing it with such authority and feeling." Lenny won the Best Newcomer Award at the Evening Standard Theatre Awards for his portrayal of Othello. The production then transferred to the Trafalgar studios in London's West End for a further three month run.
In 2011 he embarked on a UK Tour called CRADLE TO RAVE. This was an autobiographical musical journey taking Lenny through his favourite artists, records and sounds – whilst also bemoaning the fact that he is pants at playing the piano. Again, the tour received rave reviews and following the success of this, Lenny took the show to Australia and New Zealand in June 2012.
In January 2011 Lenny presented a new Saturday night BBC1 entertainment show called MAGICIANS.
Lenny made his debut as a playwright in April 2011 with 'Corrinne Come Back and Gone'. The play explored the problems facing Caribbean immigrants returning to their homeland. It was broadcast on Radio 4 and was very well received.
In November 2011 Lenny returned to Shakespeare starring at the Olivier Theatre at the National playing Antipholus of Syracuse in The Comedy of Errors. Quentin Letts from The Daily Mail raved about Lenny's performance, ''His performance as Antipholus of Syracuse was a roaring success from start to finish. From the moment he stepped on stage the production zoomed."
The fourth series of Rudy's Rare Record's begins 9th October 2012 on BBC Radio 4.
Lenny collects rare marvel, DC and indie comics, cufflinks and old vinyl. He graduated with a BA Hons in English Literature and went on to study for an MA in screenwriting for television and film, where he received a distinction. He is now studying for a PHD on the role of black people in the media.
Fee range:
Please Enquire