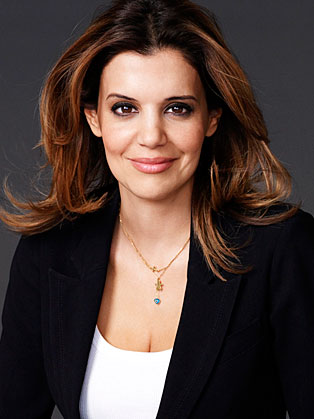 Best known for:
Linda Papadopoulos is a one of the most well-known and respected psychologists working in the UK today.
Summary:
Linda Papadopoulos is a Canadian psychologist of Greek Cypriot descent, based in England. She is the author of books such as Psychodermatology, Becoming a Therapist, Psychological Approaches to Dermatology, the popular psychology books The Man Manual and What Men Say what Women Hear, which make the claim that there are inherent gender differences in relationships, and Mirror Mirror: Dr. Linda's Body Image Revolution, a book on using CBT to promote a healthy body image.
Biography:
Doctor Linda Papadopoulos's 14 year career as a research scientist and practicing psychologist has led to her work being published in some of the most well-regarded academic journals and given rise to a high profile media-career. Her observations regarding the psychology behind news and current events are syndicated by the press and discussed by television and radio networks both in Britain and in the USA.
She has a prolific academic publication record and has published widely in peer reviewed academic journals in the fields of Psychodermatology, Body Image, Counselling and Medical Psychology. Her books and research articles in the field of Psychodermatology exploring the link between the skin and the psyche are considered seminal in the field.
She has written several academic and self-help books many of which have been translated into numerous languages. Dr. Linda still actively supervises research and is often invited to give specialist lectures at Universities and Medical Schools both in the UK and throughout the world.
Founder and director of the successful Programme in Counselling Psychology at the London Metropolitan University, Dr. Linda was appointed Reader in Psychology in 2001 – a great distinction at such a young age. In addition to her academic research she was recently asked by the British Government to conduct a review on the sexualisation of young people and its link to domestic violence which was published in 2010. The publication of the review received positive attention from politicians, stake-holders and the media.
Dr. Linda is a Chartered Counselling and Health Psychologist and an Associate Fellow of the BPS. During her 14 years as a Chartered Psychologist, she has gained extensive experience in the counselling of individuals, couples and families. She was recently included in the Top 20 therapists in London by the Evening Standard newspaper and was awarded the Madame Figaro Women of the Year Award in 2008 in the field of academia.
As well as her clinical and academic work Dr. Linda is often enlisted to consult with large corporations who want to utilize her research and academic background to effectively conduct studies and analyze quantitative and qualitative data. Her analysis provides major brands such as Dior, Speedo, and Renault with valuable insight on topics such as consumer behaviour. The results of her research are often included in written material for general circulation and press releases.
Over the past decade Dr. Linda has become one of the most well recognized faces on British TV. She is a regular commentator on psychological issues in broadcast, radio and print media. She was part of the original Channel 4 team on the reality TV phenomenon "Big Brother" and went on to host the Channel 5 shows "Doctor Doctor" and "Double Cross". She has fronted factual segments on ITV's This Morning, BBC's The One Show and has also provided professional psychological commentary for numerous British television and radio programs such as Channel 5's The Wright Stuff, BBC Breakfast, and ITV's LK Today. Her expert opinions are also regularly featured on news programmes including, CNN, Sky News, ITN news and BBC24. Dr. Linda has also appeared on American TV shows such as "The Early Show" on CBS, CNN and VH-1's "Celebrity Fit Club".
With a prolific and distinguished career that she loves and which keeps her very busy Dr. Linda values her free time with her husband and their young daughter. As a psychologist and as a mother Dr Linda is passionate that young women develop a healthy self-esteem and body image. Her philosophy is that feeling good about yourself, your passions and achievements inevitably leads to looking good and most importantly liking who you see in the mirror…
Fee range:
Please Enquire