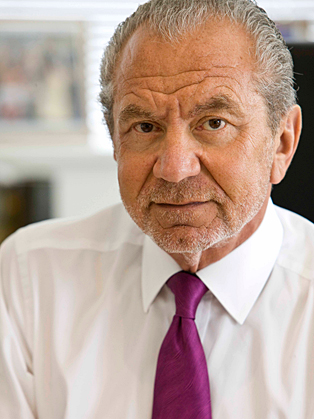 Best known for:
"Pan Am takes good care of you. Marks & Spencer loves you. Securicor cares. I.B.M. says the customer is king. At Amstrad, we want your money!" Highly successful entrepreneur and self-made millionaire and heads up the UK's famous Apprentice on BBC
Summary:
When thinking of Lord Alan Sugar it is difficult not to imagine the dreaded words 'you're fired'. However, it's good to learn that although he doesn't mince his words and definitely doesn't suffer fools gladly, Lord Sugar is actually a considerate man and a philanthropist. He says what he means and can come across as abrupt at times, but his sense of humour is evident, as is his genuine desire to improve both the business and life experience of others.
Biography:
'You're Fired!' is now a national catchphrase, thanks to Lord Alan Sugar's spirited performance on the hit BBC series The Apprentice. Personifying the East End lad made good, Lord Sugar has become Britain's favourite stroppy boss with business leaders Nick Hewer, Margaret Mountford and later Baroness Karren Brady by his side.
The son of a tailor, Lord Sugar grew up in Hackney and left school at sixteen. He started out selling car aerials and electrical goods out of a van he bought with his savings of a hundred pounds. At the age of twenty one, he founded his electronics company, Amstrad, and within twelve years the company was listed on the London Stock Exchange. The breakthrough products were the personal computers which he manufactured for the home market. At its peak, Amstrad achieved a Stock Market value of £1.2 billion.
Although the fortunes of the company waned somewhat from their peak at the end of the eighties, Lord Sugar himself continued to prosper, with business and property deals. He bought into Tottenham Hotspurs football club and spent nine years as chairman. He now also owns an executive airline, an IT company and a property firm. Exactly forty years after founding Amstrad, Lord Sugar stepped down as chairman in a planned move that resulted from the company's acquisition by Sky.
Lord Sugar's work for charity includes fundraising for the Great Ormond Street Hospital for Sick Children. He holds two honorary Doctorates of Science and was knighted for services to business.
Fee range:
50,000 GBP upwards