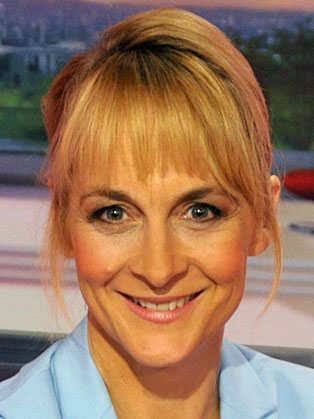 Best known for:
Louise Minchin is best known for being a journalist and presenter within the BBC.
Summary:
Louise Minchin is a British journalist and news presenter who currently works freelance within the BBC.
Biography:
After gaining a degree in Spanish at St Andrews University, Louise Minchin trained as a radio journalist and started her career at the Latin American section of the BBC World Service.
Louise moved from there to the Today programme on BBC Radio 4. Her first job as a reporter was at BBC Radio Berkshire and Fox FM in Oxford. She was then recruited as a presenter for News Direct 97.3 FM and went from there to her first job in television, working for Exclusive on Channel 5.
In 1998 she returned to the BBC to work for BBC News 24 and BBC Radio 5 Live, where she launched the station's flagship evening programme Sport on 5.
In 2003 she became one of the main anchors of the BBC News channel, also presenting BBC Breakfast, the BBC One O'clock News and the BBC Weekend Ten O'Clock News. She also guest presented The One Show and presented Missing Live, Real Rescues and Crime and Punishment on BBC One.
During her career in journalism Louise has interviewed many leading public figures, business leaders, politicians and celebrities. She has covered the major news stories of the last decade, including the hanging of Saddam Hussein, the capture of Colonel Gadaffi, the 7/7 London bombings and the marriage of the Duke and Duchess of Cambridge.
Before joining Breakfast full time in April 2012, Louise was one of the BBC News channel's main presenters and also regularly presented the BBC One O'Clock News.
Away from news, Louise has presented five series of Missing Live, her own daytime series commended in Parliament for its work reuniting families.
She has also presented five series of Real Rescues on BBC One.
She is an ambassador for the BBC's Share Take Care campaign to improve internet safety.
In 2009 Louise was one of twelve celebrities who took part in the BBC's "Around the World in 80 Days". She travelled from Mongolia to Los Angeles with BBC Breakfast co-presenter Bill Turnbull to raise money for Children in Need.
Other charities Louise supports include the Duke of Edinburgh Award Scheme, Sense and AfriKids.
Louise has extensive experience of working with live audiences, interviewing company CEOs, chairing group discussions and conducting question and answer sessions and has hosted a variety of events such as awardceremonies, conferences and charity events.
Fee range:
Please Enquire