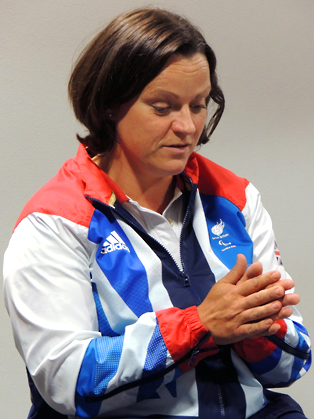 Best known for:
Martine is a 7/7 bombing survivor and Paralympian.
Summary:
Martine Wright lost both legs in the 7/7 terrorist attacks on the London underground. She has since rebuilt her life, skydived, learned to fly, and become a member of the British 2012 Paralympic volleyball team.
Biography:
The tale of Martine Wright is truly an astonishing one of triumph over adversity. On 6 July 2005 Martine and work friends gathered to watch the announcement of the host city for the 2012 Olympic and Paralympic games. The next morning, having overslept, Martine caught the Circle line and sat just three feet away from one of the suicide bombers. Martine lost both her legs in the Circle Line bombing yet she considers herself a lucky woman with a whole new life of opportunities.One of the last people to be pulled out of the wreckage, she spent ten days in a coma and was subjected to many painful operations over a ten month period as she slowly made her recovery, yet she now considers herself to be a lucky woman.
The start of that remarkable journey to the Paralympics began in 2009, when Martine tried the sport at a 'have a go' session for women's sitting volleyball. She took up the sport for its inclusive nature and focus on team element before quickly displaying the ability to make it to the very top.
She made her sitting volleyball debut at the 2010 Kent International against the Paralympic Champions, China, and she went on to gain over 40 GB caps. On the court, Martine can occupy any position, including Server, Hitter, Blocker and Libero. Prior to taking part in the London 2012 Paralympics her most memorable achievement was beating Canada at the 2010 World Championships.
Martine went on to compete in the 2012 London Paralympics with the British volleyball team, but also learned to fly a light aircraft, skydived from 10,000 feet, and learned to ski (as well as getting married and giving birth to her first child). Martine's is a remarkable story of suffering and recovery, determination and self-belief.
Wright gained a degree in Psychology and Communication Studies from the University of East London in 1996. After the 7/7 bombings she campaigned for better compensation for victims of the bombings and their families and has been an ambassador for sport for the disabled.
Fee range:
Please Enquire