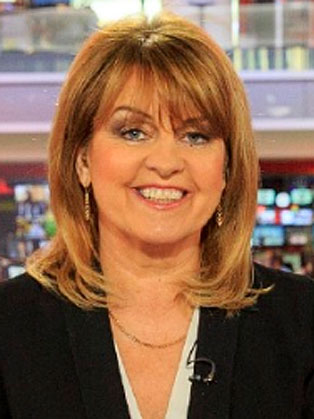 Best known for:
Maxine Mawhinney is a BBC News anchor, award winning international television and radio journalist and broadcaster.
Summary:
Maxine Mawhinney is one of the most experienced journalists in the UK. In a career spanning more than 35 years she has reported from across the world.
Biography:
Born in Belfast, Northern Ireland, her broadcasting career began at BBC Northern Ireland in radio and television before moving to Ulster Television and then on to ITN in London.
When Sky News began in 1988 she was appointed Ireland Correspondent returning to Northern Ireland during a turbulent period in The Troubles. She reported on the violence of bombings and shootings as well as political and economic progress north and south of the Irish border.
She then spent two years in Tokyo as the Asian News Editor for Reuters TV covering the assassination of Rajiv Ghandi, elections in India, Pakistan and Malaysia and the first Asian Games in China among many other major stories. She also reported from the Falkland Islands.
In October 1992 she became Washington Correspondent for the British breakfast television station GMTV when it launched and reported from the United States for four years including coverage of the Waco siege, the Oklahoma Bomb, OJ Simpson and the Clinton Presidency.
On returning to the BBC in 1996 she became a presenter on BBC World TV in London where she anchored single handed throughout the night when Princess Diana died. This was broadcast live across the world.
She then moved to BBC News 24 (the BBC continuous new channel) when it launched and is now one of the main presenters on BBC News. She also presents the BBC One national news bulletins at weekends and Dateline London, a live current affairs discussion programme for BBC World TV.
Maxine is heavily involved in the training of the next generation of journalists and broadcasters. She is the leading trainer of presenters and reporters for the BBC College of Journalism. She also works outside the BBC training with other broadcasters throughout Europe.
She has received several awards for her work -two from the American Committee for Excellence in Journalism and one from Lincoln University School of Journalism, USA, for foreign coverage of American affairs.
Fee range:
Please Enquire