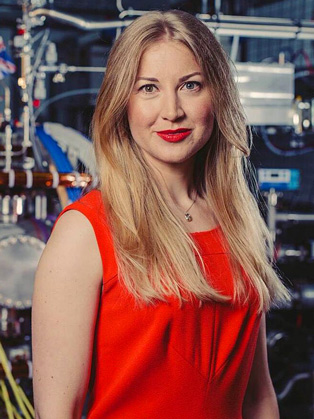 Best known for:
Melanie Windridge is a plasma physicist with a PhD in fusion energy from Imperial College London.
Summary:
Melanie Windridge works as a consultant with science and technology start-up businesses – including Tokamak Energy in nuclear fusion – and in education. An expert in the aurora and in fusion energy, she likes to combine her scientific knowledge and experience with her love of adventure to promote a better understanding of science through writing, public lectures, science festivals, videos and television.
Biography:
Dr Melanie Windridge is a plasma physicist, speaker, writer… with a taste for adventure. She has a PhD in plasma physics (fusion energy) from Imperial College London where she remains an academic visitor, and has worked in education with the Ogden Trust, Anturus and the government-initiated Your Life campaign. She is Communications Consultant for the privately-funded fusion company Tokamak Energy, working to accelerate the development of fusion as a clean energy source for the future.
Melanie's personal projects combine science with adventure. Aurora: In Search of The Northern Lights (William Collins, 2016) investigates the science of the aurora against a backdrop of travel that also illuminates the places, the landscapes and the stories of the northern lights. In 2018 Melanie will climb Mount Everest, filming and writing to tell the story of the science that gets us to the summit, and working with the Institute of Physics to inspire more children to study science and maths.
A regular public speaker, Melanie has addressed audiences at wide-ranging events – from science shows to travel shows, schools to corporates, and from vast theatres to tiny wilderness Arctic lodges. As well as being an experienced speaker, Melanie has made several television appearances, including various programmes for the BBC and others, and been interviewed for radio numerous times (both UK and abroad). She has had articles published by The Times, The Guardian, WIRED magazine and more.
Melanie is interested in the notion of "impossibles" – grand challenges once seen as impossible but attainable through investigation, ingenuity and grit – the race to the poles, Everest, space, fusion energy…. Melanie believes that science and exploration go hand in hand.
Speaking topics:
Aurora: In Search of the Northern Lights. Do we really understand the aurora? Speaking about her book and describing Arctic journeys culminating in a spectacular solar eclipse, Melanie brings together space, place and science in style.
Fusion Future Fusion: the elusive, ultimate energy source. Looking at the past, present and possible future of fusion energy, Melanie considers why development has taken so long and how, with new technologies, we may be able to get to commercial fusion faster.
Impossibles: the meeting of science and adventure. In this personal talk, Melanie tells how her fascination with exploration has shaped her life, sharing details about fusion energy, the aurora borealis and climbing Mount Everest. She reflects on risk and reward, and the lessons and inspiration we can take for overcoming our own "impossibles."
Eclipses & Aurora: Our Connection with the Sun. Eclipses and aurora have been viewed since ancient times with a mixture of fear and awe. Interweaving science with a background of history and folklore, Melanie describes their relationship to each other and our connection to the Sun.
Fee range:
Please Enquire
Testimonials:
Her knowledge and ability to communicate warmed the evening and the questions were still continuing in the carpark long after the event had finished!
Institution of Mechanical Engineers, 2017
Extremely informative and inspiring, and the content was pitched perfectly for our audience, who will have enjoyed it all the more along with your slick delivery and engaging manner.
Royal Geographical Society, 2017