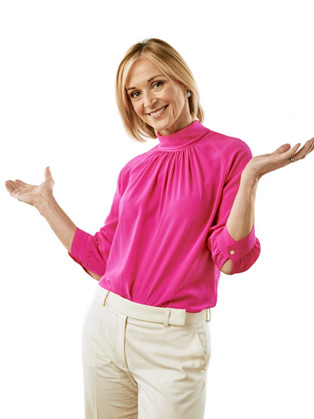 Best known for:
Mich Turner, MBE, is a trained Food Scientist and owner of the Little Venice Cake Company.
Summary:
Founder of Little Venice Cake Company Mich is a qualified Food Scientist and has over 25 years experience in the industry. She is described as 'Queen of Couture Cakes' thanks to her multi-award winning designs and A-list clientele. Among her many accolades, Mich has been named as Harper's Bazaar & CHANEL Entrepreneur, and her company recognised as a Walpole Luxury Brands of Tomorrow. A successful writer and author of six international bestselling books.
Biography:
Mich originally trained as a professional Food Scientist and was Patisserie Buyer at Harvey Nichols before founding her hugely successful Little Venice Cake Company in 1999, creating a brand that she continues to develop today.
Achieving world wide recognition for her stunning creations Mich has made over 10,000 bespoke cakes including those for Her Majesty The Queen, Pierce Brosnan, David Beckham, Sir Paul McCartney, Simon Cowell, Gordon Ramsay and Madonna. Considered an authority on the subject of cake baking and decoration, Mich regularly hosts master classes as well as creating cakes for luxury and premium brands. She was presented as a Life Member of Scottish Association of Master Bakers in 2016 and is recognised as a SatinIce Artist of Excellence.
In addition to hosting live cake demonstrations, Mich judges competitions internationally and is a consultant to a number of key businesses both in the UK and overseas. She makes frequent TV and radio appearances, as a judge on the hugely successful ITV1 series of Britain's Best Bakery and most recently BBC Saturday Kitchen and Steve Wright in the Afternoon Show on BBC Radio 2. She is a successful writer and author of six bestselling books including the brand new "Have Your Cake and Eat It"; Nutritious, Delicious Recipes for Healthier Everyday Baking. Mich continues to be a brand ambassador for Create and Craft and this autumn the first Mich Turner Collection of Afternoon Tea Fine Bone China in association with William Edwards launches exclusively with Fortnum and Mason.
Fee range:
Please Enquire