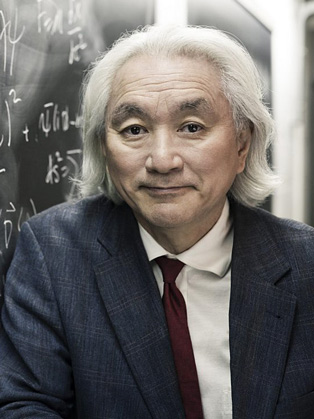 Best known for:
Dr. Michio Kaku is an American theoretical physicist, futurist, and populariser of science.
Summary:
Dr. Michio Kaku is a theoretical physicist, bestselling author, acclaimed public speaker, renowned futurist, and populariser of science. As co-founder of String Field Theory, Dr. Kaku carries on Einstein's quest to unite the four fundamental forces of nature into a single grand unified theory of everything.
Biography:
Dr. Michio Kaku is the co-creator of string field theory, a branch of string theory. He received a B.S. (summa cum laude) from Harvard University in 1968 where he came first in his physics class. He went on to the Berkeley Radiation Laboratory at the University of California, Berkeley and received a Ph.D. in 1972. In 1973, he held a lectureship at Princeton University.
Michio continues Einstein's search for a "Theory of Everything," seeking to unify the four fundamental forces of the universe—the strong force, the weak force, gravity and electromagnetism.
He is the author of several scholarly, Ph.D. level textbooks and has had more than 70 articles published in physics journals, covering topics such as superstring theory, supergravity, supersymmetry, and hadronic physics.
Michio Kaku has starred in a myriad of science programming for television including Discovery, Science Channel, BBC, ABC, and History Channel. Beyond his numerous bestselling books, he has also been a featured columnist for top popular science publications such as Popular Mechanics, Discover, COSMOS, WIRED, New Scientist, Newsweek, and many others. Dr. Kaku was also one of the subjects of the award-winning documentary, ME & ISAAC NEWTON by Michael Apted.
He is a news contributor to CBS:This Morning and is a regular guest on news programs around the world including CBS, Fox News, CNBC, MSNBC, CNN, RT. He has also made guest appearances on all major talk shows including The Daily Show with Jon Stewart, The Colbert Report with Stephen Colbert, The Late Show with David Letterman, The Tonight Show with Jay Leno, Conan on TBS, and others.
Fee range:
Please Enquire