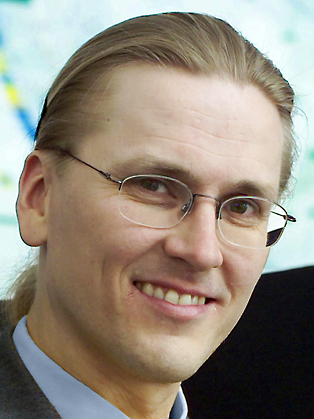 Best known for:
Computer Security and Privacy Researcher
Summary:
Mikko has led his team through the largest outbreaks in history. He named the infamous Storm Worm, was part of the Conficker Working Group and he has done classified briefings on the Stuxnet worm.
Biography:
Mikko Hypponen is a world-wide authority on computer security and privacy issues. He has been working with computer security for over 20 years and has fought the biggest malware outbreaks in the net. As a result, he has been involved in catching several online criminals. He also tracked down the authors of the very first PC virus. Mr. Hypponen has also extensively researched cyber warfare and online espionage. He has written on these topics for magazines such as Scientific American and Foreign Policy.
Mikko Hypponen was listed as one of the 50 Most Important People on the Web by the PC World magazine. Tagged as a "Code Warrior" by Vanity Fair, Hypponen is a go-to expert on cybercrime for international news media. In 2013, Reader's Digest listed Hypponen as one of the "8 Europeans who make a difference" together with Adele and Felix Baumgartner. Later in the same year he was inducted to the Infosecurity Europe Hall of Fame. Mr. Hypponen sits on the advisory boards of the Lifeboat Foundation and T2.
Mr. Hypponen set up one of the first websites in Europe, and he started one of the first blogs in history. Nowadays, he runs his award-winning Twitter account at twitter.com/mikko
Mikko Hypponen has delivered hundreds of talks in over 40 countries over the last 20 years, including keynotes in the most important security conferences. In 2010, he was awarded the Virus Bulletin Award as the best educator in the industry.
Mr. Hypponen has keynoted at events like TEDGlobal in Edinburgh, EDIST in Toronto, DLD in Münich, Forum the la Haute Horlogerie in Lausanne, and at various IDC events. His other speaking clients include SXSW, DLD, Google Zeitgeist, MWC, CeBIT, several oil & gas companies in the middle east and banks in Europe and in South Africa. He has also addresses the EU Parliament on privacy topics. and lectured at the Cambridge University.
Mikko Hypponen has delivered the most watched online security talk on the internet. This is his TED Talk from 2011. It has been watched over 1 million times and it has been translated to over 40 languages.
Speaker Topics Include:
Fighting Online Crime
Cyberwar
Online Espionage
PRISM and NSA Surveillance on world citizens
Online Privacy
Leaks and Whistleblower
Anonymous
Future of Internet
Stuxnet
Cyber Sabotage
Hacking, Hackers and Online Criminals
Bitcoin
Cryptocurrencies
The future of money, banking and finance
Fee range:
Please Enquire
Testimonials:
"We organized an event where Mikko made a presentation to a diverse group of 400 senior executives. He was extremely engaging and informative. His presentation was a nice blend of the latest facts and informed predictions delivered in an entertaining style. I would highly recommend Mikko for an enlightening look at the latest trends on cybersecurity."
Michael Wade -- Professor of Innovation and Strategy, IMD Business School, Lausanne, Switzerland
"Mikko exhibits a remarkable capacity to make complex technical concepts easy to understand, uncoupling the relevant from the mere buzz, and bringing notable anecdotes and first-hand accounts to his storytelling."
Bruno Giussani -- European director, TED
"I would see any talk given by Mikko. He is brilliant." "Mikko is an engaging and thought provoking speaker. This was one of the better presentations by a thought leader." "This was by far my favorite briefing of the conference. Very well done." "Wonderful speaker, great topic, excellent supporting data."
Audience Feedback