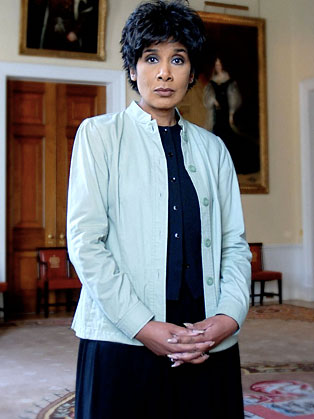 Best known for:
Moira Stuart is a British presenter, who was the first African-Caribbean female newsreader on British television.
Summary:
She has presented many television news and radio programmes for the BBC and is currently the newsreader for The Chris Evans Breakfast Show on Radio 2.
Biography:
Moira Stuart OBE was born in London in 1949, to African-Caribbean parents. She was educated in London until she was 13, she then moved with her family to Bermuda for a while, returning at the age of 15 to London, where she attended college.
Moira Stuart began working with the BBC in the 1970s and was a production assistant in the Radio Talks and Documentaries department. She was a Continuity announcer and newsreader for both Radio 2 and Radio 4 and in 1980 she played Darong in series one of game show The Adventure Game. She moved to television news in 1981, Stuart's 26-year career with BBC Television News was brought to a close on 3 October 2007, Moira is now a newsreader for The Chris Evans Breakfast Show on BBC Radio 2.
Quirky Fact:
Since 27 August 1981, Stuart has presented on every news bulletin devised on the BBC apart from the News at Ten.
Fee range:
Please Enquire