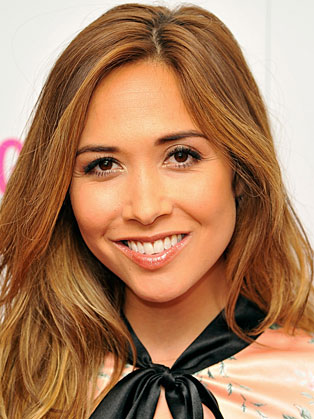 Best known for:
Myleene Klass is best known for being a member of pop band Hear'Say.
Summary:
Myleene Klass is an English singer, pianist, media figure and model, best known as a member of the now defunct pop band Hear'Say.
Biography:
Myleene Klass was born in Norfolk to an English-Austrian father and a Filipina mother. At the age of four, she picked up her grandfather's violin for the first time, and shortly afterwards began playing the piano.
As a teenager, Myleene studied voice at the Guildhall School of Music and Drama, adding harp to her repertoire, before winning a scholarship to the Royal Academy of Music. After graduating, she worked as a session musician and singer, making her West End debut in Miss Saigon.
In 2000 Myleene auditioned for a new TV show called Popstars, Myleene has underestimated how popular the show would become and she was picked from housands of hopefuls to be one of the five members of the show's manufactured group, Hear'Say. Their first single Pure and Simple entered the charts at number one and sold 1.2million copies.
A string of hits, and a tour, followed, but the band fell apart under the pressure and split in 2002. The experience left Myleene feeling battered and bruised, and unsure about the future.
Never one to be down for long, Myleene picked herself up again and decided to go back to her roots and make a classical album. In 2003 she signed a solo deal with Universal Classics and released her debut solo album, Moving On. It got to number two in the charts, went gold within weeks, and has since gone double platinum.
At this point, TV was starting to beckon to Myleene. She cut her teeth on a number of guest presenting roles before landing her first major job in 2005, presenting cult Saturday morning ITV show, cd:uk and interviewing all the big pop stars of the time.
It's lucky Myleene likes taking herself out of her comfort zone, because in 2006, she took on one of the biggest challenges of her life: jetting to the Australian jungle to appear on I'm A Celebrity... Get Me Out Of Here.
With her almost tomboyish, 'can do' attitude and her friendly and warm nature, Myleene was an instant hit with her campmates and also the viewers at home. And when she stripped into THAT white bikini, she became a front-page fixture back home and a cert to reach the finals of the show. Myleene became the most searched-for celebrity from the show EVER on internet search engine MSN, and the most searched for celebrity in the WORLD. She was the highest placed woman on the show, coming second only to Matt Willis.
After returning to the UK, offers for the much sought-after Myleene came flooding in. She accepted presenting roles including the launch of hit magazine programme, The One Show, along with The People's Quiz.
Then in 2007 came one of her most pivotal roles: her own movie show, The Screening Room, on worldwide channel CNN International which goes out to 400 million people.
Myleene's exotic looks, famous curves and natural charm soon came to the attention of massive UK retailer Marks and Spencer. In 2007, she was signed up to be one of the faces of the brand's famous marketing campaigns and has adorned billboards and TV adverts alongside such luminaries as Twiggy and Erin O'Connor, as well as presenting her own show on M&S TV.
Since 2006, Myleene has hosted a show on Classic FM and can currently be heard every Saturday and Sunday evening from 10pm to midnight. She says, "I'm all about taking classical music to the masses and letting a new audience know that classical music doesn't have to be scary."
Myleene's presenting work has continued with shows including 10 Years Younger, World's Youngest Daredevils and the US version of I'm A Celebrity seeing her in a role safely away from the spiders and snakes for a change! She won Cosmopolitan's Ultimate Comeback Queen in 2007 and Ultimate TV Presenter in 2008, and Specsaver's Celebrity Spectacle Wearer of the Year in 2009.
Myleene is also delighted to be working as an ambassador for Save The Children, one of many charities she supports.
With such a wealth of experience in so many different fields, it is impossible to predict what lies ahead for Myleene.
Fee range:
Please Enquire