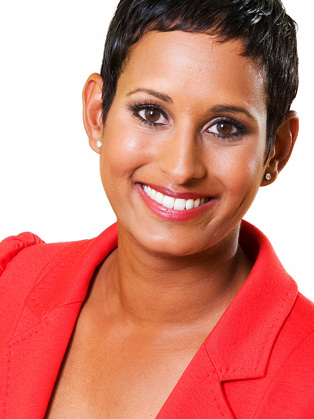 Best known for:
Naga Munchetty is best known for being a British journalist and television presenter.
Summary:
Naga Munchetty is a British journalist and television presenter. She presents BBC Breakfast regularly from Thursday to Saturday.
Biography:
Naga Munchetty is known nationwide for being one of the main presenters for BBC Breakfast and the European slot for BBC World News.
After graduating with a degree in English Literature and Language from Leeds University, Naga's determination saw her achieving a Post-graduate Diploma in Newspaper Journalism from City University. Her career started at the Evening Standard, but soon after she became a reporter for Reuters Financial Television. Later, she earned the position of Senior Producer for CNBC Europe and then became a producer and reporter for News at Noon (Channel 4). Naga also worked for Bloomberg TV, where she was a senior presenter interviewing major CEOs and bank managers. Two years later, she was fronting Working Lunch for BBC2 and after that she began presenting the European slot for BBC World News. She now combines this role while also sitting on the red sofa presenting for BBC Breakfast.
Golf is one of Naga's passions and she plays it up to five times per week – she has admitted that her handicap is 9, but she is determined to get even lower.
In 2013, Naga was crowned the winner of Celebrity Mastermind on the subject of The Ryder Cup: she answered every question correct on her pet subject.
Naga aims to empower women around the world to achieve career success. In 2014, she was named in the Asian Power List as one of the UK's most powerful Asian females alongside Jameela Jamil and Liberty Director Shami Chakrabati.
Naga has given support to The Dog's Trust by helping in walking dogs and thus publicly showing her love of animals. An advocate for healthier lifestyle habits, in 2013 Naga participated in the London Marathon sponsoring United Response, a charity organisation that aims to support mental health programmes.
In October 2015, Naga was appointed to the judging panel of The Baileys Women's Prize for Fiction for 2016. Most Recently, in 2016 Naga was confirmed as one of the celebrity contestants on BBC's Strictly Come Dancing.
Fee range:
Please Enquire