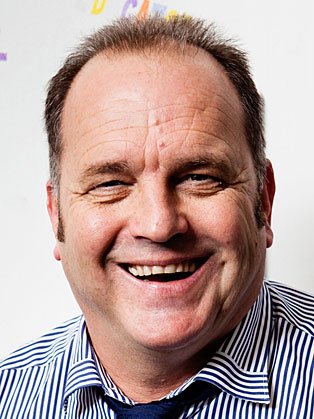 Best known for:
Nev is an author and TV personality, but is best known for founding the Save Britain Money group.
Summary:
Following the success of the Call Centre TV show and his other media appearances Nev has become a highly sought after business, motivational and after dinner speaker. Whether its informed opinion for a key-note address or a burst of energy and a song to start a conference that you need, Nev is guaranteed to make an impact.
Biography:
Neville Wilshire is the founder and CEO of the Save Britain Money group. An award winning and successful businessman, Nev, as he is known to everyone, is now a familiar face to millions of viewers as the star of the highly successful BBC Three docusoap The Call Centre.
Nev's path to business success and now TV stardom started in his home town of Swansea. In 1984 aged just 25 Nev established Central Heating Services and generated an impressive £100,000 turnover in the first year. Just 4 years later and Nev was a millionaire and enjoying all the trappings of success that came with it. However, what Nev couldn't have foreseen was the deep recession that was about to batter the UK economy. Like countless other businesses the recession of 1989 had an immediate impact on sales. Nev battled for a while to turn things around but increasing levels of debt were saddling the firm. So just 10 year after Nev had become a millionaire the bank put Central Heating Services into receivership. It was this tough time that taught Nev a lesson he often repeats "keep a handle on your finances and don't rely on others to provide you with crucial information".
The loss of his business was a shattering blow for Nev who was forced to endure some tough times; his marriage ended, home lost and Nev was left selling off personal assets such as lorries and equipment to try and address his debts. It wasn't until 1996 while on holiday in Florida that Nev received inspiration from an unlikely source. He popped in to watch the Walt Disney story and was surprised to discover that Walt had been made bankrupt twice, his words that you could not achieve success without first suffering failure made a real impact on Nev who returned home knowing that he had to get up and stop feeling sorry for himself.
Fast forward 9 years and Nev, now armed with extensive experience of using grant schemes to fund home improvements, was ready to set up on his own again. Nationwide Energy Services initially employed 12 people but by working with a large number of sub-contractors was able to provide coverage across the whole of South Wales. The company focus was providing loft and cavity wall insulation at discounted rates. In the eight years since, NES has evolved beyond all recognition and is now part of Nev's group of companies called Save Britain Money. The SBM group provide a range of money saving services to the British public including; energy efficiency surveys, installation of energy saving measures, pension reviews, debt management plans, fuel switching and much more. Employing in excess of 700 staff with a further 500 support staff working in the field the group continue to expand to support the aim of helping even more people with their monthly bills.
Business accolades have followed including 2nd best place to work in the UK on The Sunday Times list and the 26th fastest growing company in the UK on The Sunday Times Virgin Fast Track 100. In January 2012 the BBC came calling and the rest as they say is history. With two series and a Christmas special of the award winning The Call Centre behind him, as well as appearances on shows including The One Show, Backchat and Sweat The Small Stuff, Nev is no longer Swansea's best kept secret.
Nev filmed the second series of THE CALL CENTRE. His book 'HAPPY PEOPLE SELL 'shares his unorthodox management style including compulsory sing-a-longs, matchmaking attempts, arm wrestling bouts and the use of very direct language delivered at high volume. Following that the hit series took to India for filming.
TALKS:
There are Winners and Losers… Nev's entertaining and moving life story; from Swansea school boy to a millionaire in his 20's, and losing it all in his 30 to finding fame and fortune in his 50's. A rollercoaster story brought vividly to life through Nev's personal recollections.
Happy People Sell… Nev's unique guide to motivation and retention; starting with Nev's philosophy on maximising performance, the origins of his many catchphrases, examples from Nev's time in 'The Call Centre' and ending with a rousing group song. Guaranteed to leave everyone smiling!
Surround yourself with great people… Nev's guide to achieving business success combines his personal thoughts on business management and strategy with examples, both good and bad, from his own business life. A very different take on a well-worn subject through the eyes of a successful entrepreneur.
SUBJECTS COVERED
Employee retention & engagement
Motivational techniques
Managing potential
Getting the best from your team
Call centre excellence
Entrepreneurship
Outstanding customer service
Leadership
Fee range:
Please Enquire