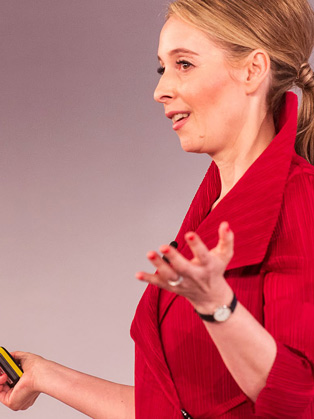 Best known for:
Professor Noreena Hertz is a renowned thought leader and economist with an impressive track record in predicting global trends.
Summary:
Former ITV Economics Editor, Noreena is a leading economist and international bestselling author. Her work focuses on the socioeconomic implications of artificial intelligence, the lack of trust and existential threat felt by 'Generation K' and its connection to populism. With a track record of predicting national and global trends, Noreena has a profound understanding of the geopolitical and economic climate, examining the effects of the rise of populism on globalisation and business.
Biography:
Named by The Observer as "one of the world's leading thinkers" and by Vogue as "one of the world's most inspiring women," economist Noreena Hertz is a bestselling author, board member and keynote speaker whose thinking inspired the creation of Bono's Product (RED).
A bestselling author, Noreena's book The Lonely Century – Coming Together in a World That's Pulling Apart, is partly based on research she carried out on digitalisation and post-millennials or 'Generation K'. It's an insightful look at how isolation in an increasingly connected world is the key narrative influencing every aspect of society, culture, business and politics. Amongst her other titles are IOU: The Debt Threat and Why We Must Defuse It, The Silent Takeover, and Eyes Wide Open: How to Make Smart Decisions in a Confusing World. The latter examines decision-making amid a maelstrom of data and information, and incorporates modern leadership culture, disruption and artificial intelligence along the way.
A regular commentator in print globally, Noreena's opinion pieces have appeared in publications including The New York Times, The Washington Post, The Wall Street Journal, The Guardian, The Financial Times, Die Zelt, El Pais, and The South China Morning Post. She makes frequent television appearances around the world including on flagship television shows such as CBS' This Morning, BBC's Question Time, NHK's Global Debate; has created and hosted four television documentaries; hosted her own show on the US' largest radio network, Sirius XM and served as the economics editor for the UK's leading commercial television network, ITV.
Noreena has a PhD from Cambridge University and an MBA from the Wharton School of the University of Pennsylvania. Having spent 10 years at the University of Cambridge, in 2014 she moved to University College London where she is an Honorary Professor at the Institute for Global Prosperity.
Noreena advises governments and corporations globally and sits on the boards of Warner Music Group and Workhuman.
"We built a lonely world. Now we have the opportunity to rebuild the world, with compassion, community and care at its heart." Noreena Hertz
Fee range:
Please Enquire
Testimonials:
One of the world's leading thinkers.
The Observer
One of the world's most inspiring women.
Vogue