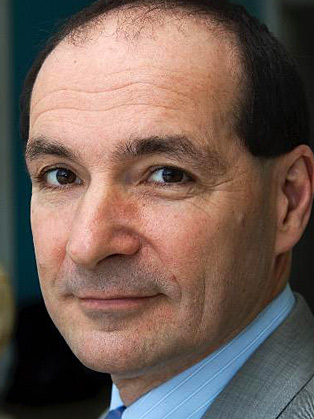 Best known for:
Dr. Patrick Dixon is an author and business consultant, often described as a futurist, and chairman of the trends forecasting company Global Change Ltd.
Summary:
Dr. Patrick Dixon is a futurist keynote speaker, Chairman of Global Change Ltd and author of 16 books including The Future of Almost Everything, Futurewise and Building a Better Business. He is ranked as one of the 20 most influential business thinkers alive today.
Biography:
Dr. Patrick Dixon advises multinational boards and senior teams on strategic impact of global trends, innovation and risk - in assignments ranging from one-day strategic reviews, to in-depth consulting over more than a year. Examples of issues: macro-economic trends, future of marketing, mobile payments and banking, multi-channel customers, social media, consumer shifts, lifestyle changes, customer loyalty, relationship management, call-centres, brand management, demographic shifts, health care, pharmaceutical research, antiageing, genetics and biotechnology, nanotechnology, emerging markets, geopolitical threats, risk management, agile leadership, change management, motivation, green tech, sustainable innovation and corporate responsibility. He has also worked as Group Strategy Director for Acromas Ltd, which owns the AA and Saga.
Patrick Dixon is also co-founder and director of Global Innovators LTD and has been a non-executive director of Acromas Health Care (Allied Health Care Ltd, Nestor Health Care Ltd and Saga Health Care Ltd) - which delivers as a group over 40 million home care visits a year across the UK, 24 hour live-in care, out-of-hours medical cover, hospital-at-home, end-of-life, dental, forensic medicine, nursing and prison health. He was also Chairman of the Biotech company Virttu Biologics Ltd, which is conducting clinical trials on new cancer treatments using oncolytic viruses.
Dr Dixon has been ranked as one of the 20 most influential business thinkers alive today. More than 500,000 pages on tens of thousands of websites refer to his work. Chairman of Global Change Ltd, a growth strategy and forecasting company, he is author of 16 books (over 620,000 printed, 35 languages), and a physician. Books include Futurewise, SustainAgility, The Genetic Revolution, Building a Better Business and now The Future of Almost Everything.
He has appeared on many TV stations, including CNN, CNBC, Fox News, Sky News and ITV commenting on global events, science and health issues, with features in the Financial Times, Telegraph and Time magazine.
Dr Dixon has spoken to audiences in over 50 nations and is one of the world's most sought after keynote speakers at corporate events. His customised multimedia presentations are experienced by up to 4,500 people a time, in up to four countries a week. Challenging, visionary, hard-hitting, strategic, provocative, dynamic, passionate and practical as well as entertaining - keynotes motivate people to seize growth opportunities and to change.
Fee range:
Please Enquire