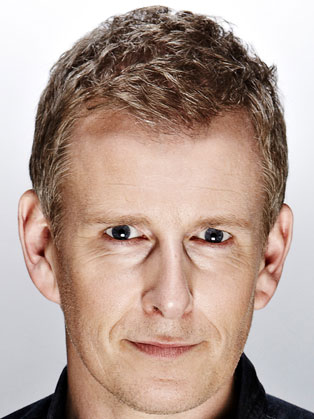 Best known for:
Patrick Kielty is a Northern Irish comedian and presenter who is one of the most recognisable names on TV and having appeared on prime time celebrity shows and late night standup and topical panel shows.
Summary:
Patrick Kielty started his comedy career whilst a student at Queens University, Belfast. He started his own night at the city's famous Empire club, which spawned a one-off BBC television special 'The Empire Laughs Back' which in time won him a Royal Television Society award for best regional presenter.
Biography:
Born in Northern Ireland, Patrick quickly made a name for himself as the host of Northern Ireland's first comedy club "The Empire Laughs Back". He gained a fierce reputation for his fearless satirical routines and the BBC were quick to pick up on his ability to provoke and charm in equal measure.
Patrick's sardonic observations on life, Ireland, drinking, celebrities and politics have all appeared on shows such as Mock the Week, Live at the Apollo, Have I Got News For You and others too. He as also hosted programmes such as Channel 4's topical show Stand Up For the Week and BBC One's Fame Academy, Celebrity Love Island and also Sport Relief, the National Lottery Live and the Big Breakfast.
Patrick returned to standup after his time presenting and having previously appeared at Belfast's Grand Opera House alongside Lenny Henry for Comic relief, Patrick sold out the venue for his solo return which was later released on DVD. Alongside his live TV appearance, Patrick frequently appears on Radio 2 having stood in for Alan Carr among others.
Recently Patrick authored a landmark documentary for BBC1 called 'My Dad, The Peace Deal and Me', which explored a legacy of Northern Ireland's peace deal, 20 years on. The documentary was met with both audience and critical acclaim, which he then won the 2018 Grierson award for Best Presenter and a BAFTA nomination.
Fee range:
5,000-10,000 GBP
Testimonials:
Patrick brought the house down. I had rib ache from laughing so much as did the rest of the audience i'm sure. A very memorable evening. Please pass on both my personal and a great big collective thanks to Patrick, what a thoroughly lovely chap too!
Meteor Group
Edgy but also hilarious and never losing control of the room
Frank Publishing Ltd
TV hasn't tamed this man - he is still one of the funniest comedians you will ever see.
Whats On Stage
Natural comic timing...Devastatingly self aware.
The Telegraph