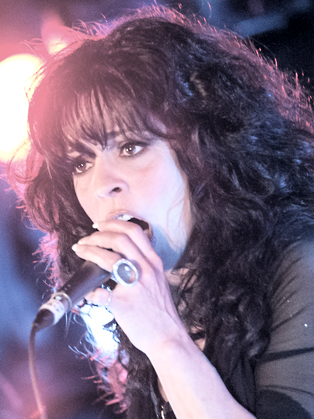 Best known for:
Patricia "Patti" Russo is an American singer/songwriter/actress. She is perhaps best known as Meat Loaf's former female lead vocalist as she toured the world with his Neverland Express band between 1993 and 2013.
Summary:
After working with high-profile bands and musicians around the world for twenty years, singer / songwriter Patti Russo is launching her solo career with a tour of the UK and an EP of her own music. Patti is best known as a duet partner for Meat Loaf, with whom she has toured the world for two decades. She has also worked with Cher, Queen, Bryan Ferry, Betty Harris and the Trans-Siberian Orchestra, to name a few. Patti Russo is also no stranger to the theatre stage, having appeared as Esmeralda in the London production of Notre-Dame de Paris and as Killer Queen in the Las Vegas production of Queen and Ben Elton's smash hit musical We Will Rock You.
Biography:
Patti started out singing in local bands and doing jingles and voice-overs for TV commercials until, one day in 1993, a life-changing opportunity came along…
Auditioning for Rock & Roll singer Meat Loaf, Patti scored with her incredible voice – as well as her style and personality – and landed a role as lead vocalist in his band, The Neverland Express.
She spent the next 20 years touring the world with Meat Loaf and is featured on all his albums and live recordings released between 1995 and 2011. Patti left Meat Loaf's band in 2014 to pursue a solo career.
Patti has also recorded vocals for a leading role in the Trans-Siberian Orchestra's rock opera Beethoven's Last Night (2000) and also recorded a song for the soundtrack of the Jim Carrey movie How The Grinch Stole Christmas (2000) with the band. In 2002 she also contributed vocals to Bryan Ferry's album Frantic.
Patti's a versatile Speaker and Presenter. Possible topics:
Handling fragile egos in ways that value the task and the relationship over the long term

Delivering peak performance every time, even when life kicks sand in your face

Making relationships work with people who are different than yourself - it's easy to rub along with "clones"

Emotional resilience - the bounce back or "Chumbawumba" factor

The ability to handle life in the fast lane

Masterclass & Workshops with Peter Cook and his Academy of Rock
Fee range:
Please Enquire