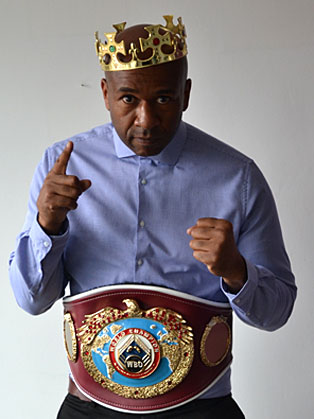 Best known for:
Paul Jones is the first British born boxer to win the world light middleweight title in history.
Summary:
Paul has won 5 championships belts in 3 different weight categories from light-middleweight, middleweight and super-middleweight but actually fought in a incredible 5 different weight.
Biography:
Paul is an accomplished speaker and can hold an audience with his charm and interesting anecdotes about his boxing career. Paul can converse on most subjects, and with a slight sense of humour and a twist of charm he will have his audience spellbound that will strike an emotional chord like finding himself at the age of 10 years old stuck in Jamaica parentless and not getting back to his family in the UK until the age of 13, it was then he set about his dream of following Muhammad Ali's foot steps, Paul embarked on a career that lasted 22 years and reached the highest pinnacle you can but in his own words it came with the high & lows.
Paul retired from Boxing in 2002 after an incredible fight career that spanned over twenty years at the top accumulating five championship titles. Sheffield's Paul "Silky" Jones has achieved so much, and has inspired so many, in his own words Paul said 'Many are called, Few are chosen'
• Former undefeated Light Middleweight World Champion.
• Former Commonwealth Middleweight Champion.
• Former WBC International Undefeated Super Middleweight Champion.
• Former Central area Light Middleweight undefeated Champion.
• Former WBO Intercontinental undefeated Champion.
• Knockout of the Year
• Intercontinental Fighter of the Year
Fee range:
Please Enquire