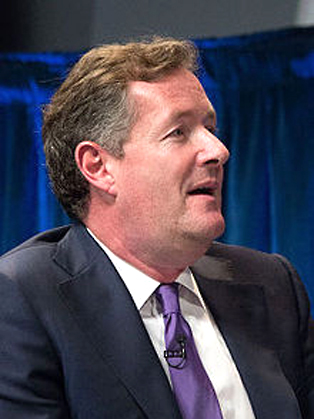 Best known for:
Piers is best known as a judge on Britain's Got Talent, after proving a big hit on the US version.
Summary:
Piers Morgan was Editor of the Daily Mirror until his dismissal following a decision to publish photos of British soldiers apparently abusing Iraqi prisoners of war. He is now better known as a judge on Britain's Got Talent, after proving a big hit on the US version. On 17 January 2011, he began hosting Piers Morgan Tonight for CNN in the timeslot previously occupied by Larry King Live before the retirement of host Larry King. His book, The Insider, private diaries of a scandalous decade, became an instant number one bestseller and sequel Don't You Know Who I Am? Insider diaries of fame, power and naked ambition topped the bestselling list as well as God Bless America.
Biography:
It depends who you talk to. Fans say his larger than life personality and tabloid instincts make him the best tabloid editor of his generation. Critics say his reputation has been irreparably tarnished by the City Slickers scandal.

Fleet Street's high-flyer has a tendency to play for high stakes.

Mr Morgan was made editor of the News of the World in 1994 at the tender age of 28. He then went on to become editor of the Daily Mirror, a position he held for nine years.

He is currently working in the United States and is editorial director of First News, a national newspaper for children published in the UK, and host of Piers Morgan Tonight on CNN.

Morgan's career has diversified in recent years into television presentation and proprietorship. In 2003, he presented a three-part television documentary series for the BBC titled The Importance of Being Famous, about fame and the manner in which celebrities are covered by modern media.

He has co-hosted his own current affairs interview show on Channel 4 with Amanda Platell - Morgan and Platell. Morgan and Platell were put together because of their opposing political angles. Platell would interrogate guests from the right-wing, Morgan from the left-wing. The show was dropped after three series allegedly because of poor viewing figures, though the chairman of Channel 4, Luke Johnson, was reported not to like the programme.

Throughout 2006, Morgan appeared as a judge on America's Got Talent alongside Brandy Norwood and David Hasselhoff on NBC. Morgan was chosen by Simon Cowell as a replacement for himself because of the conditions of his American Idol contract.

In 2007, he appeared as a judge for the second season of America's Got Talent and also appeared as a judge on Britain's Got Talent on ITV1, alongside Amanda Holden and Simon Cowell. He also presented You Can't Fire Me, I'm Famous on BBC One.
In January 2008, Morgan fronted a three-part documentary about Sandbanks for ITV1 entitled Piers Morgan on Sandbanks. In May 2008, Morgan signed a two year "golden handcuffs" deal with ITV reportedly worth £2 million per year. As part of the deal, Morgan would continue as a judge on Britain's Got Talent for at least two more series and front a new chat show. He also made some interview specials, plus three more documentaries from various countries. Morgan's golden handcuffs deal is the first signing by ITV's new director of television, Peter Fincham.
On 8 September 2008, a new series started, The Dark Side of Fame with Piers Morgan, produced by BBC Scotland.

Morgan returned to ITV1 in February 2009, with the series, Piers Morgan On..., which saw him visit Dubai, Monte Carlo and Hollywood. The series positioned Morgan as a modern day Alan Whicker and received strong viewing figures for the channel. The programme returned for a second series in 2010[39] when Morgan visited Las Vegas, Marbella, and Shanghai.

In 2009 Morgan's show, Piers Morgan's Life Stories, began on ITV1 with Sharon Osbourne as the subject of the first episode. Other guests on the programme have included Cheryl Tweedy and the then Prime Minister Gordon Brown.
On 8 September 2010, CNN announced Morgan would replace Larry King in the network's evening line-up, with his show Piers Morgan Tonight, beginning 17 January 2011.
Fee range:
20,000-50,000 GBP