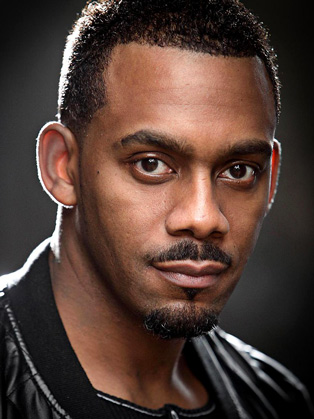 Best known for:
Richard Blackwood is a Stand-up Comic, Broadcaster, Actor and Presenter.
Summary:
Richard Blackwood first set his sights on entertaining at the tender age of eight after watching comic, Richard Pryor live in concert on BBC 2.
Biography:
At the age of 20, Richard Blackwood graduated from university with a BA honours in Business Studies, but instead of donning a suit and commencing the 9-5 routine, he decided to pursue his dream in the world of entertainment.
In 1993 Richard performed his first stand up show at The Spot inCovent Garden and for the first time he realised what all his friends had been telling him for years – he was a natural. Richard was an instant hit at the intimate venue, but his popularity took a sudden rise when he began touring across Britain with fellow comedian, Geoff Schumann.
A break in television was inevitable for this rising star, and brief appearances on the 90s hit shows, The Real McCoy and Blouse and Skirt not only added yet another dimension to his growing list of talents, but also cemented his presence on the screen. For it was here that he was spotted on by music channel, MTV.
In 1996 Richard joined forces with presenter, June Sarpong to front MTV's prime-time music request show, MTV Select. Every Saturday afternoon the duo entertained young London from the Leicester Square studio, but after a four-year run the show reached a natural end. However, Richard's television career was far from over.
In 2000, Richard embarked on a musical career and released his debut album, You'll Love To Hate This. Mama (Who Da Man), a cover of his uncle Junior Giscombe's 80s hit Mama Used To Say, was the first single to be released from the album and reached an impressive No.3 in the UK charts. His tongue-in-cheek approach to hip-hop exposed him to an array of new fans searching for light relief in a genre usually associated with gang culture and had critics dubbing him, 'south London's answer to Will Smith' In 2004, Richard joined Choice FM (now Capital XTRA) – the UK's leading urban station – to become one of the Choice's biggest brand names. Together with fellow broadcaster, Kat B, the duo culminated a huge following resulting in the most-listened to show on the station's weekend schedule.
In 2007, Richard landed his own show on the station. RB's Sunday School, which broadcast weekly, was No.1 on Choice's Sunday schedule. Richard's no-nonsense approach to community issues proved to be popular amongst his audience and the station soon launched RB Real Talk, a series of monthly seminars to empower, inspire and motivate young people based on this model.
Richard has recently completed a successful two-year run as the character of Donkey in the hit musical theatre adaptation of Shrek. Richard also learned how to sing during his training for the iconic role, made famous by his Hollywood hero, Eddie Murphy: "It was tough. I hated the training, but I enjoyed the fact that I then learned how to sing, or hold a note. I always looked at as if you can't sing, you can't sing, but that's not the truth. You can actually learn how to sing."
Away from entertainment, Richard hit the headlines when he appeared on ITV 1's This Morning to raise awareness about prostate cancer. Richard, whose mum was diagnosed with breast cancer earlier this year, was applauded for his bravery and decision to get examined on live TV.
Fee range:
Please Enquire