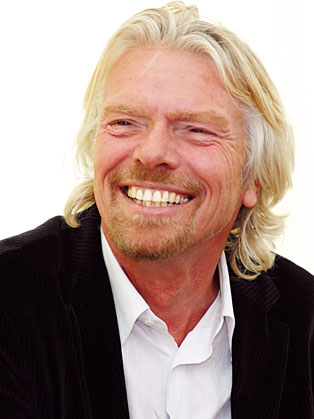 Best known for:
Richard is the founder of the internationally successful Virgin Group.
Summary:
Richard Branson is best known as the founder of Virgin Group, which comprises more than 400 companies. His first business venture was a magazine called Student at the age of 16. In 1970, he set up a mail-order record business. In 1972, he opened a chain of record stores, Virgin Records, later known as Virgin Megastores. Richard's Virgin brand grew rapidly during the 1980s, as he set up Virgin Atlantic and expanded the Virgin Records music label. Richard is now the 6th richest person in the UK, according to the Forbes 2013 list of billionaires, with an estimated net worth of £2.8 billion.
Biography:
Virgin is one of the world's most irresistible brands and has expanded into many diverse sectors from travel to telecommunications, health to banking and music to leisure. There are now more than 100 Virgin companies worldwide, employing approximately 60,000 people in over 50 countries.
Having started Virgin as a mail order record retailer in 1970, Branson founded Virgin Records and opened a record shop on Oxford Street, London. After building a recording studio, The Manor, the first Virgin artist, Mike Oldfield, recorded and released 'Tubular Bells'. Virgin Records went on to sign household names from the Sex Pistols to The Rolling Stones, becoming the biggest independent label in the world.
Since Branson founded Virgin Atlantic in 1984, it has established itself as a leading global airline after overcoming BA's Dirty Tricks campaign. Virgin Australia, Virgin America, Virgin Holidays, Virgin Limited Edition, Virgin Trains, Virgin Hotels and Virgin Galactic have followed in travel, while expansion elsewhere has seen Branson become the only person to build eight billion dollar companies in eight different sectors.
Branson has challenged himself with many record breaking adventures, including the fastest ever Atlantic Ocean crossing, a series of hot air balloon adventures and kitesurfing across the English Channel. He has described Virgin Galactic, the world's first commercial spaceline, as being "the greatest adventure of all". Space travel has been a dream for Branson since he watched the moon landings on TV, and he registered the Virgin Galactic name in 1999. Testing for commercial service is underway, with Branson planning to join his family on the first space flight.
He is also a record breaker online, voted the UK's number one Twitter user, the world's most social CEO and the world's most followed person on LinkedIn. Branson maintains a daily blog, discussing everything from entrepreneurship, conservation and sustainability to travel, music and humour. He has more than 11.5 million followers across five social networks. He has also written six books, including autobiography Losing My Virginity.
Since starting youth culture magazine Student aged, Branson has found entrepreneurial ways to provoke positive change in the world. He started a Student Advisory Centre aged 17 to help young people overcome issues ranging from abortion to sexuality. He set up the Virgin Earth Challenge in 2007 - a $25 million prize for scalable and sustainable ways of removing greenhouse gases from the air.
In 2004 he established non-profit foundation Virgin Unite to tackle tough social and environmental problems and strives to make business a force for good. Most of his time is now spent working with Virgin Unite and organisations it has incubated, such as The Elders, Carbon War Room, B Team and Branson Centre of Entrepreneurship. He also serves on the Global Commission on Drug Policy and supports ocean conservation with the OceanElders.
Branson was awarded a knighthood in 1999 for services to entrepreneurship. He lives on Necker Island with his wife Joan, and has two children, Holly and Sam.
Fee range:
Please Enquire