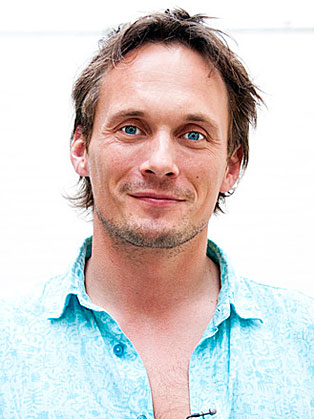 Best known for:
Richard Reed is an entrepreneurial business speaker and co-founder of Innocent Smoothie Drinks.
Summary:
Richard Reed is the co-founder of Innocent drinks, the UK's fastest growing food and drinks company and the no.1 smoothie brand in the UK.
Biography:
Richard Reed is one of the three co-founders of Innocent Smoothies. From modest beginnings, the company is now the most popular smoothie brand in the UK, with Reed acknowledged as one of the brightest young business talents ever to come out of Huddersfield.
His entrepreneurial career started at just 8 years of age, when he began washing his neighbour's windows and selling Smurf stickers at school. By the age of 12, he was working in a pet food factory picking up dog biscuits, but he soon reverted to self employment and set up a summer gardening business named 'Two Men Went to Mow', employing his school friends as the workforce.
Richard attended Batley Grammar School and went on to study at St. John's College in Cambridge, gaining a masters in geography. It was at Cambridge where he met Adam Balon and Jonathan Wright, with whom he would go on to set up Innocent Smoothies. After leaving university he worked in advertising in London for four years, although his career took a very different direction after a holiday with his friends. Having been hit by the realisation that they hadn't eaten anything fresh or nutritious for weeks, they decided to develop a range of drinks that would make it easy for people to digest natural fresh goodness. In May 1999, Innocent was born.
After six months of recipe development and armed with £500 worth of fruit, the three friends attended a music festival to sell their smoothies. On their stall they placed a sign reading 'Should we quit our day jobs to make smoothies?', and they placed two recycling bins in front labelled yes and no, so that the 20,000 or so festival goers could pass their judgements on the drinks. The result was a resounding yes, and the following day Richard resigned from his advertising job to concentrate on Innocent.
After just ten years in business, Innocent is the number one selling smoothie brand in the UK, with a 71% market share and sales of over two million units each week. They have also expanded into Europe, with Innocent products available in France, Germany, Denmark and many others. Not only that, but the company have achieved this whilst being ethically and environmentally responsible and maintaining a charitable ethos. The Innocent Foundation was launched in July 2004, and sees the company donate at least 10% of its yearly profit to charity, including grants for communities in Innocent's fruit source countries. As well as leading Innocent, Richard is a non-executive Director on the Department of Energy and Climate Change and sits on the Development Board of Oxfam. He is also a government advisor on entrepreneurship and has sat on the Small Business Council, and he was awarded an Honorary Doctorate from Huddersfield University in November 2010.
In 2013, Richard and his co-founders sold their controlling stake in Innocent to Coca Cola in a deal valuing the business at over half a billion dollars.
Richard remains on the board as a minority shareholder.
Since 2013, Richard has co-founded:
Jam Jar Investments – Venture Capital fund backing Europe's best customer facing businesses.

Art Everywhere – the world's largest art show.

The Reed Page Foundation – charity that funds global peace-brokering & environmental protection initiatives.
Fee range:
Please Enquire