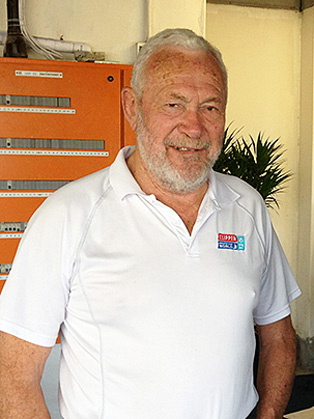 Best known for:
Sir Robin Knox-Johnston CBE is a sailing legend.
Summary:
Sir Robin was the first person to sail single-handed and non-stop around the world between 14 June 1968 and 22 April 1969.
Biography:
More than 45 years have gone by since Sir Robin Knox-Johnston made history by becoming the first man to sail solo and non-stop around the globe in 1968-69.
One of nine sailors to compete in the Times Golden Globe Race, Sir Robin set off from Falmouth, with no sponsorship, on 14 June 1968.
With his yacht Suhaili packed to the gunwales with supplies he set off on a voyage that was to last just over ten months. He arrived back in Falmouth after 312 days at sea, on 22 April 1969, securing his place in the history books.
Sir Robin wanted everyone to have the opportunity to experience the challenge and sheer exhilaration of ocean racing because there are far more flags of success on the top of Mount Everest than on the high seas.
Among many other races, in 2007 Sir Robin has circumnavigated again in the VELUX 5 OCEANS race at the age of 68. In late 2008 and early 2009, Knox-Johnston took part in a BBC programme called Top Dogs: Adventures in War, Sea and Ice alongside fellow adventurers, Sir Ranulph Fiennes and John Simpson. 2014 saw Sir Robin, aged 75, finish the solo transatlantic race the Route de Rhum in third place.
Publications include:
A World of My Own (1969)
Seamanship (1987)
A Voyage for Madmen (2002)
Fee range:
Please Enquire