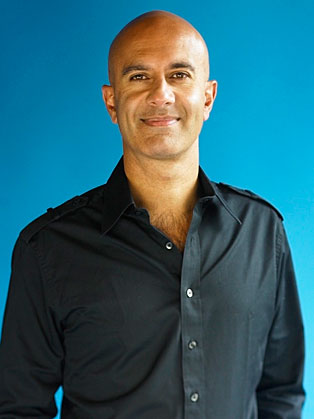 Best known for:
Robin Sharma is one of the world's top experts on leadership, change management and personal mastery.
Summary:
Robin Sharma is a respected global leadership expert and motivational speaker. He has a proven record of success in the field, and is a bestselling author of 11 books on the subject. During the last fifteen years, Robin has been sharing cutting-edge leadership insights, helping organisations grow leaders at all levels, and bringing their high potential employees to their next level of excellence. He is ranked as one of the top 5 leadership gurus in the world in an independent global survey of over 22,000 businesspeople by leadershipgurus.net.
Biography:
Robin's mission is To help people and organizations Lead Without Title, and in so doing, contribute to the building of a better world. A former lawyer, he quit his job and self-published a book at a Kinko's copy shop (his mother edited it). Stored 2000 copies in his kitchen. Second book The Monk Who Sold His Ferrari was also originally self-published until former HarperCollins president Ed Carson discovered Robin in a bookstore. The book, and the series that followed, has become one of the world's most successful publishing franchises.
Robin Sharma is now the celebrated author of 11 bestselling books on leadership, including The Leader Who Had No Title (Simon & Schuster), one of the bestselling business books on the market today. His work has been published in over 60 countries and nearly 75 languages, making him one of the most widely read authors in the world. He shot to fame with The Monk Who Sold His Ferrari (HarperCollins) that has topped international bestseller lists and sold over 3,000,000 copies. Celebrity CEOs, rock stars, top entrepreneurs and royalty have all embraced his work. As well as being a much sought-after speaker globally, Robin is also a widely respected CEO advisor having worked with Fortune 500 CEOs and leaders all over the world.
Robin is the founder of Sharma Leadership International Inc., a training firm with only one focus: helping people in organizations Lead Without a Title. Clients include many of the Fortune 500 including Microsoft, GE, Nike, FedEx, and IBM. Organizations such as NASA, Yale University and The Young Presidents Organization are also SLI clients. In a recent independent survey of 22,000 business people Robin was ranked in the Top 5 leadership experts (source: leadershipgurus.net). He frequently shares the stage with Jack Welch, Jeffery Immelt, and thought leaders such as Bill Clinton. Robin is profiled regularly on leading international media such as CNN, MSNBC, BNN and the Biography Channel.
Fee range:
Please Enquire