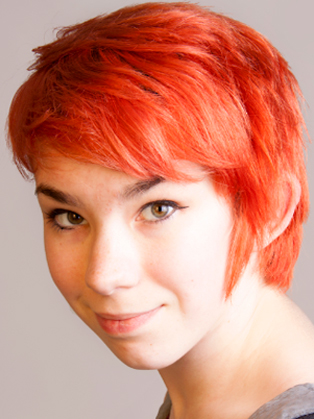 Best known for:
BBC Pablo writer and voice actor, EMMY winning documentary 'My Autism and Me' only surpassed by her TEDMED speech delivered in Washington USA.
Summary:
BBC Presenter, illustrator and public speaker, Rosie King has achieved great things at the young age of 23. She diagnosed her own autism at the age of nine (a diagnosis that was later confirmed by specialists) and dedicates her considerable talents to raising positive awareness about autism. With a younger brother and sister severely affected by the condition, this has always been a subject close to Rosie's heart. She is an ambassador for the National Autistic Society, and has worked closely with professionals to improve the quality of education for young people with additional needs in mainstream school. After speaking about her condition and the way that it effects her at the TEDMED convention in Washington DC 2014, Rosie received a standing ovation. Graduating with first class honours in Creative Writing from Roehampton, Rosie enjoys being part of the BBC Pablo writing team and voice actor.
Biography:
When she was nine years old, doctors confirmed Rosie King's self-diagnosis of autism. With two younger siblings severely affected by autism, from a young age, Rosie had a burning desire to help make the world a more tolerant place for people with autism. She found the opportunity to do so when her family was invited to do a local news segment on her mother's children's books that featured Rosie's illustrations. Her lack of inhibition made her a natural presenter, and she was asked to host BBC Newsround's special program "My Autism and Me," bringing her a much wider audience and an Emmy Kid's Award.
Now at the age of 23 she's an Emmy Award-winning spokesperson and educator who is helping to make the world a more tolerant place for autistic people, as well as other disabilities/neurodivergance. Rosie continues to raise awareness about autism, and is working towards her goal of becoming a professional writer.
Rosie graduated from university with a 1st class honours degree in Creative Writing, and is now writing for the BBC. Rosie is a creator, writer and voice-actor for the show Pablo which helps very young children understand autism. All members of the cast are also on the autistic spectrum.
Rosie's Mum Sharon King also speaks and happy to share a stage or go solo whichever works best for client and audience.
Fee range:
Please Enquire