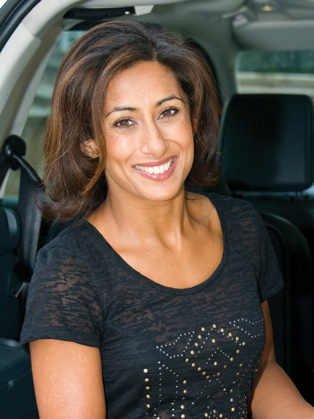 Best known for:
Saira Khan shot to fame in the first series of the smash hit BBC 2 TV series "The Apprentice" in 2005 and has since taken the UK by storm never being off our TV screens.
Summary:
Saira has presented ITV's 25 episode lunchtime gameshow "Guess This House" and is a regular panellist on "Loose Women" (ITV- 12.30pm) and has also co-presented ITV's hit consumer show, "The Martin Lewis Money Programme," (ITV 8.00PM). As well as TV presenting Saira is a regular contributor to the UK's media and writes guest columns in national newspapers and magazines and has a regular column in the Sunday Mirror.
Biography:
For the BBC she presented the hit children's show "Beat the Boss" and "Trade your way to the USA" and her 2 x 60 minute documentaries for BBC2 called, " Adopting Abroad, Saira's Story" was shown to great national reviews.
Saira's business acumen, sense of humour and interest in current affairs has led her to appear on iconic programmes such as Celebrity Great British Bake Off, Mastermind, Children in Need, Red Nose Day, Celebrity Masterchef, Pointless Celebrities and Celebrity Big Brother. She is a regular and popular guest on This Morning, Good Morning Britain and Radio 2 and 4.
She is MD of her own company "miamoo" a luxury range of skincare products – www.miamoo.co.uk. She launched the business in 2006 directly after completing The Apprentice. Having suffered with dry skin all her life and then overcoming the condition through self care using natural ingredients, she wanted to educate parents on how to prevent and heal dry skin conditions and offer a natural range of products that were effective yet kind and gentle on delicate skin.
Saira is a regular corporate speaker on business start up, women in business, British Muslim integration, self development and sales training and her adoption journey. However, the most popular subject she gets asked to talk about is her time and experience on "The Apprentice". As a finalist of the first series she is respected for her "can do" attitude and her exceptional sales skills. She gave inspiration to every woman watching when she was asked about how she felt as the only female left in the competition, she answered, "I am equal to any man out there."
Her straight talking, no nonsense approach makes her an energetic and captivating speaker. Her business insight comes from starting her own business rather than text books or theories. A born entrepreneur she honed her skills by working in various Blue Chip industries and in different roles ranging from a sales Exec to a Sales Director. She has sold everything from biscuits to advertising and helps schools to launch Enterprise Days where the pupils set up their own businesses and then sell their products and services to raise money for their school or charity.
Fee range:
Please Enquire