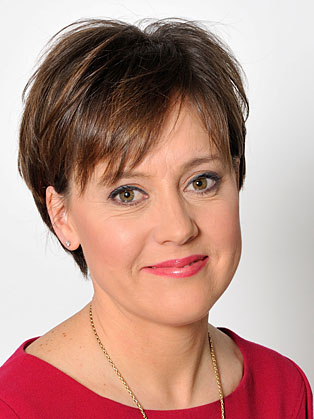 Best known for:
Sally Bundock is an award winning financial journalist who presents the business news in the mornings on BBC1, BBC News Channel and BBC World News.
Summary:
If you need to know the latest international business news before you go to work, Sally Bundock will inform you Monday to Thursday at 0530am on BBC1 and 0830am on BBC News Channel. Her programmes, World Business Report and Business Live are a must watch if you work in business or finance. Sally is a financial journalist who has been presenting live television programmes for 20 years.
Biography:
Sally Bundock joined the business team at the BBC in 2002 and has been presenting the early morning edition of World Business Report on BBC One, BBC News Channel and BBC World News for the past 10 years. Sally has also just launched the BBC's flagship business programme, Business Live which airs every week day at 0830 on BBC News Channel and BBC World News. Sally co-presents Business Live with Ben Thompson and it's a packed 30 minute programme that covers all the key business stories and gets the inside track from the world's leading CEOs.
It's been a busy time for Sally, especially since the financial crisis began in 2008. The Eurozone debt crisis has dominated the agenda and Sally's role has been to inform the European audience, as they wake-up, of the latest developments and how it impacts their lives. In 2014 Sally was named as one of the UK's 50 most powerful part-timers on the third annual Power Part Time List compiled by both Timewise and the Financial Times. This year sees Sally join the judging panel to compile the 2015 list of the most powerful people in the UK who have adopted a flexible approach to working.
Sally has also worked extensively in radio including presenting Wake Up To Money on BBC Radio 5 Live and presenting the business on Drive Time with Simon Mayo on BBC Radio 2. She has also covered the business news on BBC One's Breakfast.
She previously worked for Bloomberg where she created and presented their award-winning evening programme, Bloomberg Money.
During her career, Sally has covered many momentous events, including G7 conferences, historic EU summits and the World Economic Forum in Davos. She did her undergraduate degree in public administration in South Wales and then moved to London to complete her post-graduate diploma in journalism at City University.
Sally still lives near the capital with her husband and three young sons and when she is not at work, the rest of her day is dedicated to the equally challenging task of raising their boys.
Fee range:
Please Enquire
Testimonials:
"It was an absolute pleasure to have met you and have had you as part of the team...thank you for being such a fantastic moderator and doing an outstanding job. You handled the whole situation with grace and style. In fact, it was done in such a natural way, that it even perhaps broke the ice somewhat and created a relaxed environment. Thank you for creating a lively, engaging and truly interactive panel discussion."
"It was great to have you as part of the team. The feedback was that it was the best panel in the ten years it has been running and that was in no small way due to the way you moderated. Yes it was fun. If we cannot laugh, even under pressure, then there is no point is there?"