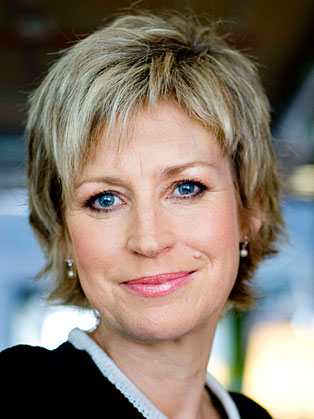 Best known for:
Sally Magnusson is an award-winning Scottish broadcaster and writer, currently working as the presenter of Reporting Scotland.
Summary:
Sally Magnusson is an award-winning journalist, broadcaster and writer, who as well as Songs of Praise has presented a range of programmes for the BBC, including news, current affairs and politics.
Biography:
Magnusson started her career in journalism at The Scotsman newspaper in Edinburgh and then the Sunday Standard in Glasgow. She is often seen on television, most notably as a long-serving presenter of Reporting Scotland news programme, a role she shares with Jackie Bird.
In the 1980's, Magnusson was a presenter of Breakfast Time. In 1987 she was part of the Breakfast Time team, which covered the results of the general election.
Magnusson has also presented many television programmes ranging from Panorama to Songs of Praise. In 2005 she joined The Daily Politics as its Friday presenter, later that year she presented the BBC's Scottish Election Night coverage.
Fee range:
Please Enquire