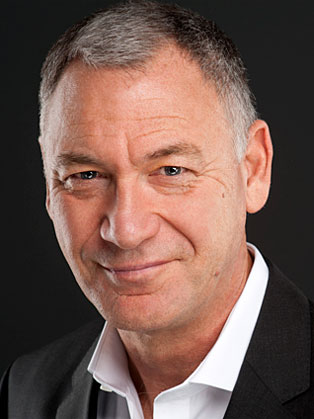 Best known for:
Shaun Smith has been a key catalyst in expanding management attention from the narrow focus on customer service to the much wider and strategic issue of customer experience.
Summary:
Shaun Smith has developed some of the latest thinking and practice around this subject, helping organisations world-wide create a compelling customer experience that achieves brand differentiation and long-term customer loyalty.
Biography:
Over the last 30 years, Shaun Smith has built up a wealth of practical experience with organisations throughout Europe, Asia Pacific and the US, working with senior executive teams on key issues such as brand strategy and implementation, leadership, customer experience and organisational alignment. Shaun has worked within a diverse range of sectors, including both business-to-business and business-to-consumer organisations. These include retail, telecoms, travel, leisure, professional and financial services, technology, automotive, manufacturing and the public sector.
He is co-author of four critically-acclaimed business books:
Uncommon Practice people who deliver a great brand experience - researched and written in partnership with Interbrand, examines those companies that create exceptional customer experiences.
Managing the Customer Experience – turning customers into advocates'(co-authored with Joe Wheeler) reveals how leaders can build this kind of competitive advantage for their own organisations.
See, Feel, Think, Do–the power of instinct in business - (co-authored with Andy Milligan) explores how highly successful business leaders and entrepreneurs use the power of instinct to achieve results.
Bold-how to be brave in business and win - (also co-authored with Andy Milligan). Published by Kogan Page in April 2011, the book tells the story of 14 brands that are transforming their markets through innovating the experience they provide to their customers and their employees. (The book, which has been awarded the CMI 'Business e-book of the year' award, is accompanied by an app which allows readers to compare their own organisations with the BOLD brands featured)
Shaun is also contributing author to The Economist's Brands and Branding and author of the Organisational Alignment Survey (OASTM) and the Customer Experience Management+TM survey (CEM+TM) - research tools that enable organisations to evaluate and improve their customer experience and align their people with company values and strategy.
Shaun began his career in the airline industry working with British Airways in a number of senior customer service and operations roles. He became Head of Customer Service, Sales and Marketing Training worldwide for British Airways at the time the airline was becoming privatised in the mid-1980s and was one of four senior managers on the Steering Group that managed the highly regarded 'Putting People First' initiative. He later moved to Hong Kong as Managing Director of Cathay Performa Consulting (a subsidiary of The Swire Group) where he led a team, consulting with major organisations throughout Asia in the area of service strategy.
Whilst working in Hong Kong, Shaun was appointed as Group Advisor to Inchcape Group, consulting to over 30 business units covering marketing services, retailing, shipping services and motor distribution to help them move from competing on price and product to competing on customer service. Over the next five years he was responsible for designing and leading deployment worldwide, working closely with the individual BU Managing Directors and their teams.
Shaun returned to the UK in the late 1990s as Senior Vice-President of the Forum Corporation, when he ran Forum's customer experience consulting practice.
Shaun now runs the highly regarded customer experience consultancy, Smith+co, which is firmly rooted in the 'keep it simple' ethos. Smith+co has worked on customer experience initiatives for leading brands like Burberry, PayPal, O2, HSBC and IHG.
Shaun has featured a number of times on CNBC and CNN and is sought after to speak internationally on key business issues. He is a Fellow of the Professional Speakers Association and a Member of the Global Speakers Federation. Shaun was recently presented with the PSAE (Professional Speaking Award of Excellence). He has also appeared a number of times at the prestigious London Business Forum. His approach is refreshingly simple, authoritative and always stimulating.
Key Topics:
BOLD – How to be brave in business and win
Managing your Customer Experience – turning your customers into advocates
Uncommon Practice – differentiating your brand
See, Feel, Think, Do – the power of instinct in business
Living the Brand – the move towards holistic marketing
Aligning your Organisation – harnessing the power of your people
Fee range:
Please Enquire
Testimonials:
So effective, we signed him up for further thought-leadership events.
Lorena Baker Harris - Senior Director, Corporate Marketing, Convergys
The audience reaction was overwhelming. I think the greatest testimony to Shaun's presentation is in the scorecard: never before have we had a speaker whose rating has consistently gone off the end of the grid.
Michael Barrett Conference & Research Manager TFWA
Your well chosen case-studies and thought-provoking insights gave the team the perfect stimulus for some really beneficial discussion and debate. I've had very positive feedback from the team on your presentation and workshop; your contributions have certainly helped to drive a new way of thinking about how we interact with our clients at London Stock Exchange Group. You clearly spent a lot of time getting to know our business and markets, in preparation for your presentation, and your time is very much appreciated.
Louise Clements Director, Internal Communications & Online London Stock Exchange Group
Thought provoking and from my perspective extremely helpful; it has already changed my thinking about an MIA Council agenda that I have been planning! The feedback on your presentation, both at the event and still coming in, has been exceptional.
Jane Longhurst, Chief Executive, Meeting Industry Association