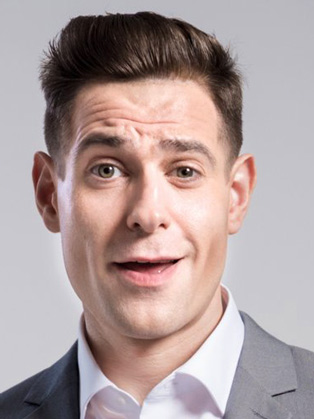 Best known for:
Simon Brodkin is an English comedian, performing both on the stand-up circuit and in comedy television series.
Summary:
Simon Brodkin is best known for playing a cheerful chav character called Lee Nelson, but also performs as other comedy characters.
Biography:
Named "the world's most famous blagger" by The Daily Telegraph, acclaimed character comedian and untameable prankster Simon Brodkin has hit the headlines multiple times for his high profile stunts. His boldest prank to date hit global headlines in 2015 when, as Premier League footballer Jason Bent, he stormed the FIFA conference and showered Sepp Blatter in hundreds of dollar bills "for the North Korea 2026 World Cup bid". Lee Nelson "Kanye'd Kanye" when he invaded the Pyramid Stage for West's Glastonbury 2015 set, rapping with him in front of 200,000 people. Jason Bent also warmed up with Manchester City ahead of their Premier League fixture at Everton and joined the England football squad, boarding the plane to the World Cup in Rio. In December 2014, Simon stormed the X Factor stage during a live performance as the "ninth member" of the boyband Stereo Kicks. He was also caught fitting a "cheat box" to a VW car at their latest launch, in protest at the "dieselgate" scandal. Most recently, Simon was seen handing out swastika-emblazoned golf balls at Donald Trump's press conference at his new Scottish golf course.
Simon is also the writer, star and creator of two series of BBC Three's ratings smash Lee Nelson's Well Good Show and sketch series Lee Nelson's Well Funny People, introducing the nation to a plethora of brilliant, new characters. He also made the 90-min special Jason Bent's World Cup's Best Ever Goals, Ever! (BBC Three). Lee has appeared multiple times on BBC One's Live At The Apollo, both as guest and host.
Suited & Booted, the latest Lee Nelson tour, showcased a new look for Lee, swapping his cap and shorts for a sharp suit. Following the success of the first leg, it was twice extended into Autumn 2015 and Spring 2016. This followed two hugely popular tours, Lee Nelson's Well Good Tour and Lee Nelson Live, both of which were three times extended due to huge ticket sales.
Simon's additional television and radio credits include appearances on Sunday Night at The Palladium (ITV); The John Bishop Show (BBC One); John Bishop's Christmas Show (BBC One); Channel 4's Comedy Gala; Absolutely Fabulous (BBC One); Children In Need (BBC One); Al Murray's Multiple Personality (ITV1); Comedy Rocks (ITV1); Big Brother's Big Mouth (Channel 4); The Wall (BBC Three); Edinburgh and Beyond (Comedy Central); and BBC Radio 2's Out To Lunch. Also in 2013, Lee Nelson made a highly anticipated return to BBC One's Let's Dance for Comic Relief reaching the final with an impressive performance of Swan Lake! He is the only person to perform in two series of the show having danced to Club Tropicana the year before and he also sat on the judging panel in 2012.
Simon has taken five hit solo shows to the Edinburgh Festival Fringe, where he won the Writer's Guild Award for Best Newcomer in 2006. His 2008 show was praised for Simon's 'sharp, quick-fire verbal sparring' (The Scotsman) as well as his 'solid gold material' (Chortle). In 2010 he took Lee Nelson's Well Good Edinbra Show to the Fringe, selling every single ticket and receiving rave reviews. In 2015, he returned to Edinburgh for a sell-out run at the festival where it all started, as part of his Suited & Booted tour.
Simon wrote a weekly column in the News of The World as Lee Nelson.
Fee range:
Please Enquire