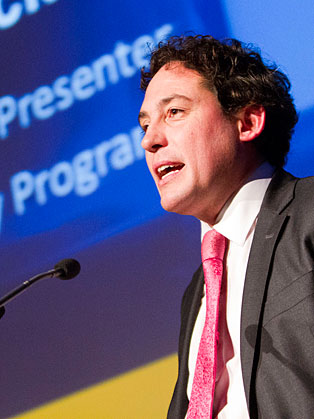 Best known for:
Simon Jack is a well-known BBC presenter, speaker and moderator.
Summary:
Simon Jack is a British business journalist and Business Editor for the BBC, known for appearing on BBC Breakfast until September 2011 and on BBC Radio 4's Today Programme until February 2016.
Biography:
Prior to entering the world of news casting, Simon spent ten years in commercial and investment banking in London, New York and Bermuda and has a degree in PPE from Oxford University.
He was once the face of BBC Breakfast's Business News and has appeared on the BBC's One o'clock, Six o'clock and Ten O'Clock News. During the banking crisis in September 2006 he covered the Federal takeover of Fannie Mae and Freddie Mac, the Bankruptcy of Lehman Brothers, the bailout of AIG and the Lloyds TSB takeover of HBOS.
In April 2015 Simon filmed a special and very personal edition of Panorama, in which he investigated why more middle-aged men kill themselves than any other group.
In February 2016 it was announced that Simon Jack was to become the new BBC Business Editor taking over from Kamah Ahmed. This new role will see him deliver the most important business stories to BBC audiences across TV, radio and digital platforms.
Fee range:
Please Enquire