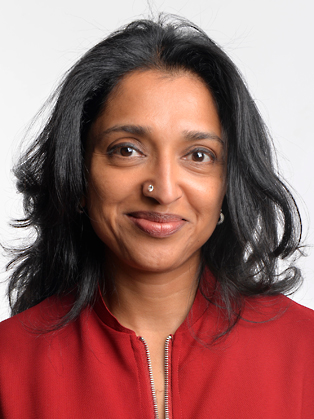 Best known for:
Sindhu Vee is best known for her award-winning comedy, actor and writer.
Summary:
Sindhu Vee swapped her career as an investment banker to become a comedian and has fast become one of the most exciting and sought-after talents on the UK circuit.
Biography:
Sindhu Vee is an award-winning comedian, writer and actor who switched her job as an investment banker to pursue a career in comedy. Sindhu has now become one of the most exciting and sought-after talents on the UK circuit.
Having previously been a finalist in both the coveted BBC New Comedy Award and New Act Of The Year competitions, 2018 saw Sindhu take her eagerly anticipated debut hour "Sandhog" to the Edinburgh Fringe. It was a high with the critics and audiences leading the show to be sold out for its entire run including extra dates. Sindhu was then nominated for the prestigious Edinburgh Comedy Award for Best Newcomer.
After Sindhu's appearance at the Edinburgh Fringe she took Sandhog to the Soho Theatre for a sold-out run and then on a hugely successful UK tour. This was extended throughout 2019 due to phenomenal demand, including another sold-out Soho Theatre run and sold-out show at Bloomsbury Theatre.
Sindhu has also done some broadcasting in her career and is firmly on the up. She has appeared twice on BBC Two's Live At The Apollo and has recently guested on the BBC2 Panel show Mock The Week, Have I Got News For You and The Apprentice: You're Fired. She has also co-hosted Channel 4's critically acclaimed satirical news programme, The Tez O'Clock Show.
Sindhu regularly appears on the BBC4 Panel show including The News Quiz and The Unbelievable Truth, she has also written and hosted her own four-part series, Sindhustan, for the station.
Sindhu also has a strong international fan base. She has performed to sold-out houses in India, plus performed her stand up for NDTV's Rising Stars of Comedy.
Fee range:
Please Enquire