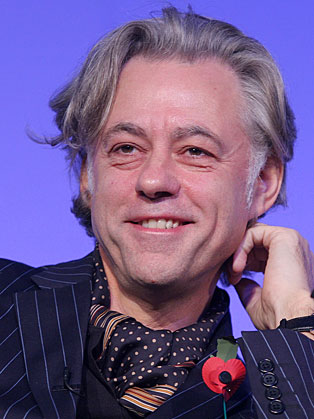 Best known for:
Bob is a world famous singer, song-writer, author, political activist, and founder of Live Aid.
Summary:
Sir Bob Geldof is one of the most fascinating public figures of our time. He's both an astute business mogul and one of the greatest humanitarians the world has ever known. As a tireless campaigner for numerous good causes and charities throughout the world, Sir Bob Geldof is able to use his high profile to great effect. From African famines and aid organisations to business, global politics and communications, Sir Bob has raised awareness of a wide range of causes.
Biography:
Best known for organizing the mammoth Live Aid extravaganza and political activism on behalf of Africa, Sir Bob Geldof was the founder of the widely acclaimed pop group The Boom Town Rats and has had an illustrious singing/songwriting career spanning 25 years.
As the inspirational force and leader behind Band Aid, Live Aid, and Sport Aid, Geldof raised more than $120 million for famine relief in Africa from 1984 to 1986 and organized simultaneous concerts in London and Philadelphia to raise £50 million. He remains chairman of the Band Aid Trust.
Geldof has been awarded numerous honors for his work, including a knighthood in 1986, a UN World Hunger Award, FAO Medal, EEC Gold Medal, Irish Peace Prize, and several other foreign state awards. He has been nominated three times for the Nobel Peace Prize and was made a freeman of the City of Newcastle in 1986.
An astute businessman, Geldof, together with Charlie Parsons and Waheed Alli, formed the multi-award-winning Planet 24. A radio and television production company, it has become one of the largest independent television production companies in the UK through its daily broadcasts, which amount to over 600 hours of UK television per annum.
Planet 24 Radio has produced a string of successful shows for all BBC radio channels and the BBC World Service. The company supplies all the daily entertainment output to IRN and it provides daily syndicated programs worldwide to some 1000 stations in Australia, the US, the Far East, and Africa. Planet 24's television interests are now expanding internationally with a cable music venture in Poland and Planet 24 America is working on a number of projects with the Disney Corporation.
Fee range:
Please Enquire