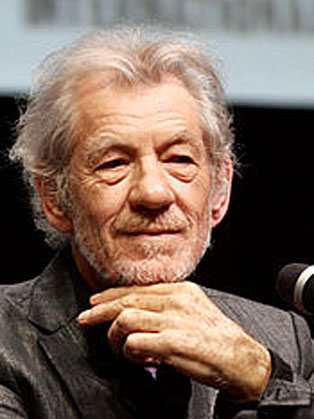 Best known for:
"Try and understand what part you have to play in the world in which you live. There's more to life than you know and it's all happening out there. Discover what part you can play and then go for it." Sir Ian McKellen
Summary:
Ian McKellen's work has spanned genres from Shakespearean and modern theatre to popular fantasy and science fiction. He is best known for roles such as Gandalf in the Lord of the Rings film trilogy and as Magneto in the X-Men films. In 1988, McKellen came out and announced he was gay. He became a founding member of Stonewall, one of the United Kingdom's most influential LGBT rights groups, of which he remains a prominent spokesman. He was made a Commander of the Order of the British Empire (CBE) in 1979, and knighted in the 1991 New Year Honours for his outstanding work and contributions to theatre. In the 2008 New Year Honours he was made a Companion of Honour (CH) for services to drama and to equality. He has received a Tony Award and two Academy Award nominations.
Biography:
While studying at Cambridge, McKellen joined the Marlowe Society, appearing in productions including Henry IV and Doctor Faustus. In 1961, he appeared in his first professional production, A Man for All Seasons. McKellen moved from regional repertory theaters to the West End, becoming a well-known and respected actor known for his performance range. He was knighted in 1991 for his achievements on the stage.
McKellen has appeared in films throughout most of his career, and became widely recognized for his work on the silver screen in the 1990s, following several roles in Hollywood and television films. In 1993, McKellen played a supporting role as a South African tycoon in Six Degrees of Separation. The same year, he appeared in the television movie And the Band Played On, about the AIDS epidemic, for which he garnered an Emmy Award nomination. He also starred in the major studio film Apt Pupil, based on a Stephen King novel.
McKellen's later films reached an even broader audience. In 2000, he starred in the first of several X-Men movies as the villain Magneto. In 2006, he appeared in the film adaptation of the best-selling bookThe Da Vinci Code. While filming X-Men, McKellen was cast as the wizard Gandalf in Peter Jackson's trilogy The Lord of the Rings. For his work in the film series, he received the Screen Actors Guild Award for best supporting actor, as well as an Academy Award nomination. McKellen agreed to reprise the role in Jackson's follow-up trilogy, The Hobbit, the first installment of which was released in December 2012.
McKellen is a prominent gay rights activist. He announced that he was a gay man for the first time on BBC Radio in 1988, although he had come out in his personal and professional lives decades earlier. McKellen co-founded Stonewall, a LGBT rights lobbying group in the United Kingdom named after the 1969 Stonewall riots. He has stated that some of his friends refer to him by the nickname "Serena."
Fee range:
50,000 GBP upwards