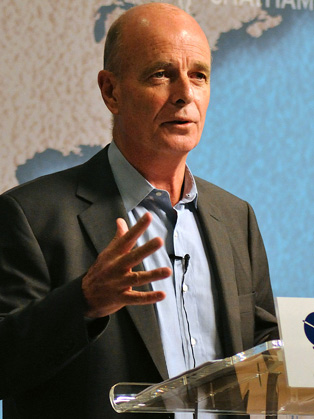 Best known for:
Sir John Scarlett OBE is a retired British senior intelligence officer.
Summary:
Sir John Scarlett OBE was Chief of the British Secret Intelligence Service from 2004 to 2009. Prior to this appointment, he had chaired the Cabinet Office Joint Intelligence Committee.
Biography:
Sir John Scarlett OBE served as Chief of the British Secret Intelligence Service (SIS or MI6) from 2004 to 2009. Sir John joined the SIS in 1971 and over the next 20 years served in Nairobi, Paris and twice in Moscow as well as several assignments in London covering the Middle East, Africa, Eastern Europe and the Soviet Union. His second time in Moscow (1991-1994) coincided with the end of the USSR and the early years of the Russian Federation. In early September 2001, he retired from SIS on appointment as Director of Security and Public Affairs in, rejoining in 2004.
Sir John took up the appointment at the JIC six days before 9/11. During the following three years, he was responsible for the co-ordination and presentation of intelligence advice to the Prime Minister and senior members of the Government.
On the 1st of August 2004, Sir John rejoined SIS as its Chief. As Head of the Service, he was responsible for the management of resources, the conduct of operations, and advice to the Government during a period of significant global uncertainty and risk from international terrorism, regional instability and potential conflict; and major shifts in the global balance of power. Sir John retired on 31st October 2009 after 38 years in Government Service.
Sir John was born in 1948 in London and educated at Magdalen College, Oxford, where, in 1970, he was awarded First Class Honours in Modern History. Since leaving SIS, he has become a Senior Advisor at Morgan Stanley. Sir John is Chairman of the Strategy Advisory Council at Statoil ASA. He is an Advisor to Swiss Re and Chairman of SC Strategy Ltd. He is a Director of Times Newspaper Holdings, Vice Chairman at the Royal United Services Institute (RUSI) and a Member of the Global Advisory Council at the Woodrow Wilson Center, Washington DC. He is Chairman of the Bletchley Park Trust, and a Trustee of the Imperial War Museum.
Other Trusteeships include the Royal Medical Foundation of Epsom College and Friends of the French Institute in the United Kingdom. He is also an Honorary Visiting Professor at Exeter University.
Sir John was appointed OBE (Officer of the British Empire) in 1987, CMG (Commander of St Michael and St George) in 2001, KCMG in 2007 and Officier of the Legion D'Honneur in 2011.
Fee range:
Please Enquire