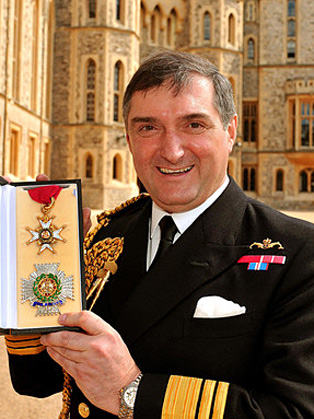 Best known for:
Sir Trevor Soar KCB OBE is a former Commander-in-Chief Fleet of the Royal Navy.
Summary:
Sir Trevor Soar KCB OBE achieved the fastest promotion of any Admiral in recent history and his career path gave him not only leadership experience at sea but also across the highest levels of defence, change management and procurement and acquisition, chairing or being a member of the most senior defence boards.
Biography:
Admiral Sir Trevor Alan Soar KCB OBE is a former Commander-in-Chief Fleet of the Royal Navy and current Chairman of Chatham Historic Dockyard Trust. Sir Trevor was born in Belper and was educated at Loughborough Grammar School. He joined the Royal Navy in 1975, attending BRNC Dartmouth.
Sir Trevor commanded the submarines HMS OCELOT from 1987 to 1990 and HMS TALENT from 1991 to 1994. He went on to command the frigate HMS CHATHAM from 1997 to 1998 and the aircraft carrier HMS INVINCIBLE from 2002 to 2004. Sir Trevor was appointed Capability Manager in 2004 in the rank of Rear Admiral and was promoted to Chief of Materiel (Fleet), Defence Equipment & Support in the rank of Vice Admiral in 2007. On 17 October 2008, it was announced that he will be promoted to Admiral and appointed as Commander-in-Chief Fleet and Allied Maritime Component Commander, Northwood.
Sir Trevor is a proven international strategic leader with a track record of Senior Board level experience at the top levels of Defence, Acquisition and Change Management. Innovative and performance focused he has consistently delivered against significant resource constraints, as well as a demanding, high profile and complex series of business challenges.
Sir Trevor's career objective is to use his leadership experience in support of Boards and key stakeholders of internationally focused organisations to meet the challenges of a global and increasingly complex marketplace.
Fee range:
Please Enquire