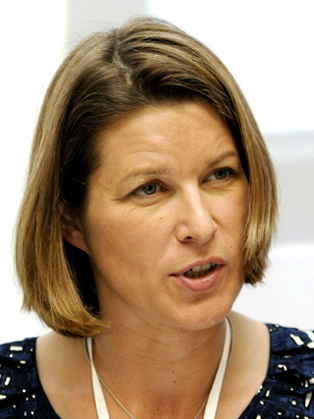 Best known for:
Stephanie is a British former broadcast journalist.
Summary:
Stephanie Flanders, Managing Director, is Chief Market Strategist for the UK and Europe for J.P. Morgan Asset Management where she delivers insight into the economy and financial markets to thousands of professional investors across the UK, Europe and globally. Stephanie also recently chaired the Royal Society of Arts' Inclusive Growth Commission, which delivered its final report in the spring of 2017.
Biography:
Prior to moving to JP Morgan in 2013, Stephanie was the BBC's Economics Editor from April 2008 where her economic worldwide analysis, broadcast around the world, was widely respected. In this role she also hosted her own economics discussion show, 'Stephanomics', for Radio 4 which asked and debated major questions about the world's economy.
At the same time, Stephanie also presented a BBC2 documentary series, 'Masters of Money', exploring the lives of Karl Marx, John Maynard Keynes and Friedrich Hayek.
Stephanie originally joined the BBC as Newsnight's Economics Editor in October 2002 and has also anchored some editions of Newsnight with an economic focus. She has produced economic reports for Panorama, and, as a keen cyclist, in 2005 she presented a review of Britain's economic status from her bicycle whilst travelling the length of the country! In 2006 and 2007 she also presented some relief shifts for BBC News between 2pm and 5pm.
Aside from her work as Economic Editor, Stephanie has also presented The Andrew Marr Show during Andrew Marr's absence in August 2009 and despite leaving the BBC in 2013, Stephanie still occasionally still appears as an expert and presents programmes for the BBC. She has been described within the BBC as an 'intellectual player in a vital, but often arcane, area.'
Stephanie Flanders is also a former speechwriter and senior advisor to US Treasury Secretary Lawrence H. Summers in the Second Clinton Administration, where she was closely involved in the management of emerging market crises and other major economic issues from 1997 to 2001. She has also worked as a reporter for the New York Times, and as principal editor of the UN's 2002 Human Development Report.
Before heading off to the US, she was a lead editorial-writer and economics columnist at the FT, and an economist at the Institute for Fiscal Studies and London Business School.
Fee range:
10,000-20,000 GBP