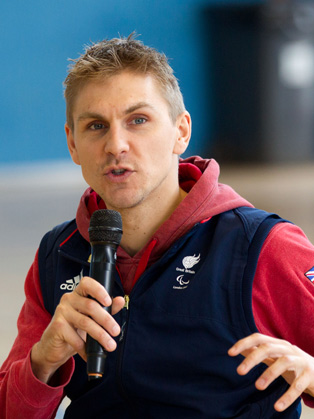 Best known for:
Steve Brown is best known for being the former captain of Great Britain's Wheelchair Rugby team.
Summary:
Steve Brown is a British Wheelchair Rugby athlete and Captain of the Great Britain National Wheelchair Rugby Team. He led the team in Wheelchair rugby at the 2012 Summer Paralympics. Brown broke his neck in a fall from a balcony in Cologne in 2005.
Biography:
In 2005 Steve became paralysed when he fell from a balcony and broke his neck. Soon after, he was introduced to wheelchair rugby and in 2012 he captained Great Britain at the London Paralympic Games.
During the build up to the games, Steve was involved in a series of Channel 4 documentaries and the Paralympic campaign, SuperHumans.
Recently Steve has consolidated his sporting credentials taking on hosting duties at Rio Paralympic Games 2016 (Channel 4), World Wheelchair Rugby Challenge (ITV4), Wimbledon, The London Marathon and the Invictus Games for BBC.
Steve has worked on BBC Breakfast, Springwatch (BBC1), Game Changers (Sky Sport 1) and has become a regular correspondent for Countryfile and The One Show (BBC1). He recently embarked on 900 mile journey, alongside five other people with different physical disabilities, for the BBC1 series Without Limits: Vietnam.
Since retiring from elite sport, Steve has turned his focus to supporting others to be their best through sport, work and education. He works as a mentor and coach alongside wheelchair rugby and leading projects such as Sky Sports Living For Sport and Youth Games.
Steve Brown is available for motivational and after dinner speeches. He talks openly about his own journey of injury, recovery, life's pressures and aiming for excellence. His aim is to challenge and motivate audiences in a positive and inspiring way.
Fee range:
Please Enquire
Testimonials:
Steve was fabulous as always. We very much enjoy working with him and he is a much loved friend of the Symposium. Our delegates were engaged and delighted by his story. A captured audience I would say.
Wellbeing Symposium 2018
The most inspiring and motivational speech I have ever heard - I was crying at the end. Standing ovation was well deserved. I wish I could rate this higher than a 10/10!
Rainbow International Conference 2018
Steve was brilliant today, exactly what we were looking for! He was excellent, so engaging - would love to have him back again! He is the best speaker that we have ever had in here and really mapped his story around the messaging that we wanted to get across. People are still raving about him today, they thought he was excellent! He was warmly received and left a most lasting impression on all.
Paddy Power Own It Event
We were honoured to have Steve come and speak to a group of our senior management team from the UK at a recent away day. His story was not only inspirational and enlightening but showed what a determined character he is and that anything is possible if you put your mind to it. He talked through his experiences and the challenges he has had to overcome in his life and he nearly drew parallels into the world of business. His style is exactly how he is as a person, confident, warm, friendly, funny and very engaging. Everyone felt truly inspired and energised by his talk and I would highly recommend Steve as a speaker at any event.
Chris Lloyd - Senior Vice President WNS