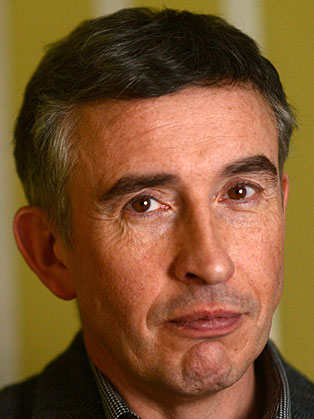 Best known for:
Steve Coogan is best known for playing the character Alan Partridge.
Summary:
Steve Coogan is an English actor, stand-up comedian, impressionist, writer and producer who is well known for creating and playing the comedic character Alan Partridge.
Biography:
After training as an actor at Manchester Polytechnic, Steve Coogan kick-started his career when he began providing voices for the satirical puppet show, Spitting Image.
Coogan introduced his most famous character, Alan Partridge, to the nation on the BBC Radio 4 programme, On the Hour.
Alan's sporting commentaries gathered a cult following and Steve was soon to be seen on our TV screens in The Day Today, introducing characters like Alan Partridge and Paul Calf to the viewing public.
Alan had also scored his own slot on BBC Radio with the spoof chat show, Knowing Me, Knowing You. The show transferred to television to widespread acclaim and it was followed up with the hit series, I'm Alan Partridge.
Most recently Steve has begun branching out into film, taking the lead in both The Parole Officer and 24 Hour Party People.
After a long absence, Steve Coogan's best-loved creation, Alan Partridge, is set to return to our screens for the series, I'm Still Alan Partridge.
Fee range:
Please Enquire