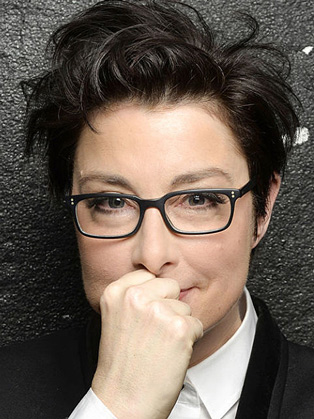 Best known for:
Becoming one of the nation's firm favourites, Sue Perkins has provided laughs and entertainment with her own TV shows, including Heading Out, panel shows such as Have I Got News For You, and presenting popular radio broadcasts. Developing a reputation as
Summary:
As an individual and with her comedy counter-part Mel Giedroyc, Sue has entertained the nation and has been a firm favorite on British television for nearly fifteen years. Sue has recently developed a profile as a foodie, providing a dynamic, insightful, and comedic edge to TV shows such as The Big Food Fight and The Great British Bake Off. Sue is also a regular on current comedy panel shows, including TV's Have I Got News For You and Argumental, as well as radio's Just A Minute.
Biography:
Sue is a presenter, writer, actor and comedian. Together with her presenting partner, Mel Giedroyc, Sue first entertained the nation on the popular Light Lunch, which ran for five series before transferring to an evening slot titled Late Lunch. Together they jumped, shouted and gurned their way through countless hours of television, marking the start of a double act that has lasted over 25 years, including the seven series of The Great British Bake Off , the recent BBC Christmas Special with Mary Berry, Mary, Mel and Sue's Big Christmas Thank You and Let's Sing and Dance for Comic Relief.
Sue hosts the BBC panel show, Insert Name Here which, due to its household success has been commissioned for multiple series. She has appeared on numerous other panel shows, including QI, Have I Got News For You and Argumental on TV and The News Quiz and Just a Minute on radio as well as hosting Dilemma for BBC Radio 4.
Other TV credits include Thronecast, Climbed Every Mountain, Maestro and the BBC specials The Mekong River with Sue Perkins and Kolkata with Sue Perkins. The most recent of her travelogues, The Ganges with Sue Perkins, aired on the BBC and tells the story of a developing, modern India through the eyes of the millions living along its banks. Sue also went to Louisiana in 2017 to film a special documentary about newly retired Chimps who had previously been kept in captivity for medical testing – Sue Perkins and the Chimp Sanctuary aired on New Year's Day on BBC.
Over the years, Sue has continued to develop and work on a wide range of solo projects, including documentaries on art, popular fiction and history including her own sitcom, Heading Out, for BBC 2, which she wrote, produced and starred in. Her 2015 memoir, Spectacles, garnered overwhelmingly positive reviews, reaching the top spot in The Sunday Times paperback non-fiction chart, and in 2017 she returned to the stage touring the UK with her stand up show based on her memoir.
In 2017 and 2018, Sue was chosen to host the prestigious BAFTA Television Awards, live from the Royal Festival Hall.
Fee range:
10,000-20,000 GBP