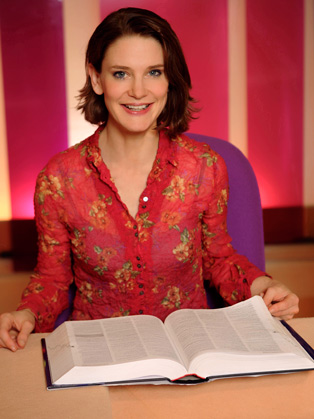 Best known for:
Resident dictionary expert on Channel 4's Countdown.
Summary:
Susie Dent is an author, linguist and resident expert in Channel 4's long-running game show Countdown. Susie is a charming and sharp witted presenter, host and after dinner speaker.
Biography:
Susie Dent is a writer and broadcaster on language. She has made over 2,000 appearances as the resident word expert on C4's Countdown and its comedy sister 8 out of 10 Cats does Countdown, and comments regularly on TV and radio on words in the news. She has contributed to discussions on Radio 4's Woman's Hour, 15 x 15, Word of Mouth, More or Less, Today, and on Radio 5 Live's Breakfast and Drive programmes, and has been a regular panellist on R4's Wordaholics. She has made guest appearances on many TV programmes including BBC Breakfast, Newsnight, This Morning, Blue Peter, Test the Nation, and The One Show.
Susie also answers notes and queries about words and phrases in a weekly column, Dictionary Corner, for the Radio Times, and is a columnist for the website Mental Floss. She has written for the Independent on Sunday, the Telegraph, and the Daily Mail, and is the author of several books, including Susie Dent's Word of the Year, What Made the Crocodile Cry?, and How to Talk Like a Local; her latest book publishes in the Autumn of 2016. She is a spokesperson for Oxford University Press, and has been a judge on the Costa Book Awards and on the Academy Excellence Awards. Susie regularly delivers key-note speeches to both small companies and major corporations on language and communication.
Susie lives in Oxford where she has developed a passion for cycling - Lycra or no, she is never without her little black book for jotting down any new words picked up in the wild.
Fee range:
Please Enquire