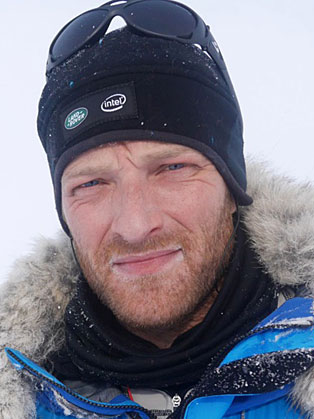 Best known for:
Tarka is a British explorer, ultra endurance athlete, motivational speaker and filmmaker who holds several endurance records.
Summary:
Tarka has a wealth of polar experience and since 1999 has led multiple expeditions across the globe. Highlights include eight marathons in eight days in 2000; a 4,500km trek through the Taklimakan Desert and over the Qiling Mountain range to walk the entire length of the Great Wall of China in 2007; and the longest crossing of the Southern Patagonian Icecap by a British team in 2009.
Biography:
L'Herpiniere spent his early years climbing, skiing, skydiving, paragliding and base jumping before turning his hand to large-scale expeditions. Initially these were mountaineering expeditions to include Mount Blanc, Aconcagua and Cho Oyu before developing an interest in the polar regions. After several successful small-scale expeditions to the Artic, in 2004 he attempted to become the youngest person ever to reach the North and South Poles, unaided and in succession but due to sponsorship withdrawal the project could not be completed.
In 2007 He became the first person to walk the entire length of the Great Wall of China. In 2008 L'Herpiniere cycled over 8,000 km through Africa on a 30-year-old bicycle with no brakes or gears to promote the charity Re-Cycle.
Fee range:
Please Enquire