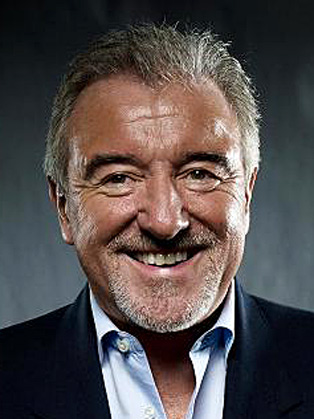 Best known for:
Terry Venables, often referred to as "El Tel", is an English former football player and manager.
Summary:
Soccer pundit, Terry Venables has a warm, embracing smile and seemingly endless flow of anecdotes which keep him in high demand for both Media and corporate work.

Biography:
Born in Dagenham, Essex in 1943, Terry signed a professional contract with Chelsea making his senior debut at the age of 17 against West Ham. He was later made the captain of Chelsea by the age of 19, the youngest ever in the English premier division. His move to Tottenham Hotspur led to Venables being awarded an FA Cup winner's medal in 1967. Terry Venables is the only English player to have represented his country at all possible footballing levels, i.e. Schoolboy, Youth, Amateur, Under 23's, Football League and Full International. This is an achievement that, due to changes in the footballing structure in the UK, can never be equalled.
Appointed manager of the top Spanish club Barcelona in 1984, He then led them to win the Spanish Championship in his first year and to the European Cup Final the following year. In 1987, Venables was appointed manager of Tottenham Hotspur FC whom he led to a record breaking eighth FA Cup win in 1991. 1994 saw Venables appointed as England manager, leading the team to the semi Finals of Euro'96, only to be beaten in "sudden death" penalty shoot-out after Gareth Southgate failed to convert for England.
Terry has several interests outside football, mainly in the leisure industry. He has also ventured into the world of literature and media entertainment, having written the following:-
"They Used To Play on Grass" 1971
"Terry Venables: Autobiography" September 1994
"Venables' England – The Making of the Team" April 1996
"The Best Game in the World" September 1996
and co-written series of successful TV scripts "Hazell".
Terry's media work includes providing expert commentary for ITV's football coverage.
Fee range:
Please Enquire